Oracle UK's profits have more than halved
Sales slide and tax repayments blamed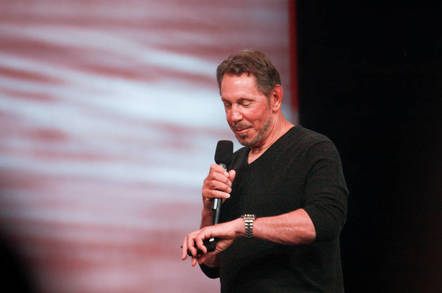 Oracle's vital statistics in the UK have moved in the wrong direction – at least from Big Red's perspective – with sales and profits slumping in the year ended 31 May 2017, accounts filed at Companies House this week reveal.
According to the accounts (PDF), revenues fell by 8 per cent year-on-year to £788.1m.
This was "due to a number of factors including a reduction in the commission income in relation to the hardware and hardware support liens of the business," Oracle stated in a strategic report accompanying the results.
This top line slip contributed to a 25 per cent reduction in Big Red's profit before tax to £26.9m, and net profit shrank 54 per cent to £11.58m, as Oracle coughed up £14.7m in corporation tax compared to £5.93m in the prior fiscal year.
The financials also reveal that Oracle had a new, full actuarial valuation carried out on its UK Pension Plan on May 31, 2016, which was the basis used to assess all the liabilities of the scheme from 31 May 2017.
The accounts now show the Oracle UK's pension liability, as of 31 May 2017 at £265m, up from £138m in 2016. The actuarial loss on the pension scheme at year-end was listed at £128m, compared with £7.6m for the previous year.
Oracle's accounts said that the increase in pension liability caused equity shareholder funds to fall by £92m in the year.
"The increased pension liability is due to changes in actuarial assumptions relating to the defined benefit underpin," the profit and loss accounts stated.
Included in the main assumptions used by the actuary in the latest assessment were that salaries would increase at a rate of 4.25 per cent compared with a 3.9 per cent increase assumed in 2016's figures.
We asked Oracle for comment on whether it was taking steps to address the actuarial loss, or to reduce its pensions liabilities, but were told by the press handlers that they simply couldn't comment.
The average number of employees employed by Oracle dipped for fiscal '17, with an average of 4,622 staff employed each month, compared with 4,976 in 2016.
The reduction was greatest in sales, where average headcount fell 9 per cent from 3,703 each month to 3,368. General and administration fell about 4 per cent, from 483 to 464, while marketing dropped 6 per cent, from 84 to 79. R&D staff rose by slightly under 1 per cent, from 706 to 711.
The cost of those employees dropped in 2017, from £540m to £515m; within this wages and salaries fell from £451m to £417m.
The accounts also reveal how much Oracle paid for acquisitions: Big Red said the consideration for NetSuite UK set it back £4.7m, and Dyn UK cost it £1.2m on 1 April 2017. It also acquired Textura Europe for £136,589 and Opower Ltd for £460,440.
The document also noted events since the year end, which include the agreement to buy Moat, with the Moat Europe consideration being valued at £455,597 and UK-registered company Wercker Ltd at £84,917.
Oracle UK also said it had entered into an agreement to sell the Blythe Valley Park facility – a business park in the West Midlands – to a third party for £8.3m, with that deal expected to complete on 30 April 2018. The projected gain on the transaction will be £3.1m. ®
Sponsored: Becoming a Pragmatic Security Leader