Enterprise storage sitrep: The external array party is over
Let's go to all-flash arrays' house instead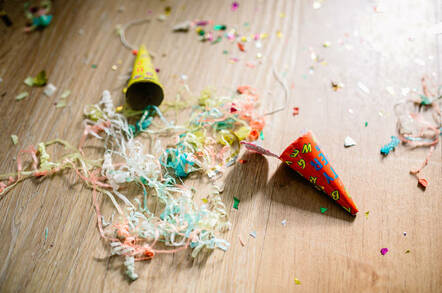 Despite the storage market growing 13.7 per cent annually in the fourth 2017 quarter, the external array section grew less than 2 per cent and is forecast to decline, according to IDC's worldwide enterprise storage systems tracker.
NetApp's position is also weakening as HPE overtakes it in external storage revenues and IBM regains strength.
Total factory revenue was just under $13.6bn with HPE and Dell in joint first place, IBM and NetApp in a tie for third place, and Huawei and Hitachi sharing fifth position.
IDC Research VP Eric Sheppard said: "Investments on enterprise storage systems are increasing at a very healthy pace. Infrastructure refresh, a broad market shift towards server-based storage, and rapid expansion within public cloud data centres are combining to creating strong demand for enterprise storage systems."
Total capacity shipments were up 39.3 per cent annually to 89.2EB during the quarter.
We've charted vendor positions over the past five quarters to show the changes: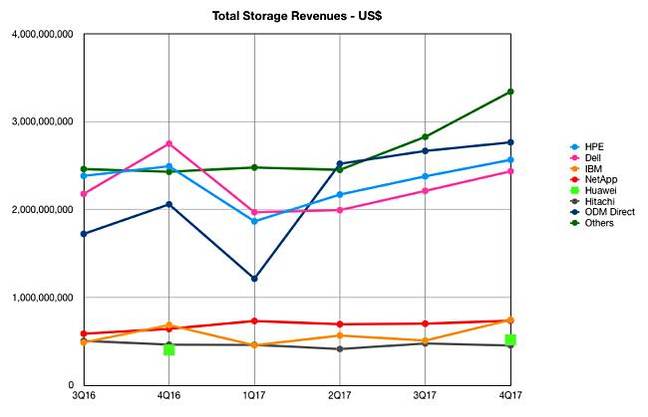 After three quarters of trailing NetApp, IBM has just regained level pegging.
IDC points out that storage systems sales by original design manufacturers (ODMs) selling directly to hyperscale data centre customers accounted for 20.4 per cent of global spending during the quarter, increasing 34.3 per cent year-over-year to just under $2.8bn. The "Others" category also grew strongly.
Sales of server-based storage increased 23.8 per cent during the quarter to $4.2bn in revenue. This has affected the total (array-based) external storage market, which grew just 1.8 per cent over the year to $6.6bn.
Dell led this market with a 26.6 per cent share, HPE next with 12.24 per cent, NetApp (11.2 per cent) and IBM (10.9 per cent) tied for third place, and Hitachi followed with 6.8 per cent. A chart of the quarterly numbers shows how vendor shares have trended: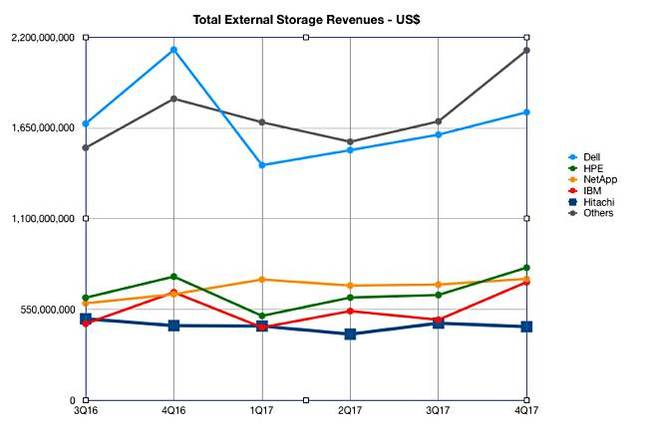 We see Dell steadily climbing out of the first 2017 quarter pit, HPE overtaking NetApp as it climbs out of a similar though shallower pit, and IBM positioned to overtake NetApp as well.
William Blair analyst Jason Ader has seen a fuller IDC report and writes that the total all-flash array (AFA) market generated over $1.9bn in revenue during the quarter, up 15.1 per cent year-over-year. He says the market share numbers were:
Dell – 29.2 per cent
NetApp – 18 per cent
HPE – 13.3 per cent
Pure Storage – 12.9 per cent
IBM – 11.9 per cent
Others – 14.8 per cent
Looking ahead, the overall enterprise storage systems market is forecast to grow 2.4 per cent through 2021. Within that, the overall external storage systems market is projected to decline 0.3 per cent. But the AFA systems market, a bright spot, is expected to grow 12.5 per cent. ®
Sponsored: Webcast: Why you need managed detection and response