Mobile World Congress: 5 buzzwords, an homage to Windows XP and a smartphone snorefest
And why was Microsoft tucked away in startup event?
MWC18 As Mobile World Congress draws to a close in relatively warm Barcelona (13°C - balmy), it's time to tally up on whether it delivered on the hype.
The buzz ahead of MWC was that Samsung would launch the Galaxy S9 smartphone, that 5G connectivity would come closer to commercial reality, and that advances in AI and machine learning would bring new levels of intelligence to cities, homes and businesses.
It is true that 5G will change everything... kind of. Samsung gave some examples: download a 15GB movie in six seconds on mobile broadband, 1.7Gbps broadband on a train travelling at 100kmph, 1ms latency enabling a self-driving car to stop in time to avoid a collision. At the same time, Huawei announced an agreement with BT to trial 5G technology, one of many such announcements.
In the meantime we struggle on with 4G or worse, and device vendors at the show struggled to come up with compelling ideas for their new smartphones. Samsung talked mainly about cameras and social media at the S9 launch, a symptom of the fact that Android smartphones are mature and commoditised.
Huawei's press event came just ahead of Samsung's at MWC, though the company is holding back its next smartphone, the P20 series, for an event in Paris on 27 March. It did launch a new Windows laptop though, the 13.9" MateBook X Pro, a nice design with a discrete Nvidia MX 150 GPU, as well as an unusual pop-up front camera to save you sticking tape over it.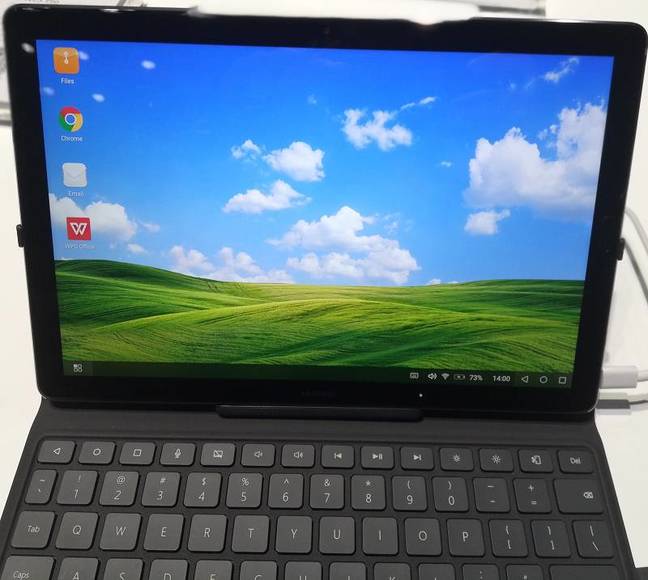 Homage to Windows XP? Huawei MediaPad M5 Android PC Experience
What caught my eye at Huawei's event was a feature of its Android MediaPad M5 tablet, also launched at the event. Dock it with an external keyboard, and it offers what Huawei calls a "PC Experience", complete with a desktop background that can only be described as homage to Windows XP. Samsung has a similar feature which it calls DeX (Desktop Experience), which works with Galaxy S8 and S9.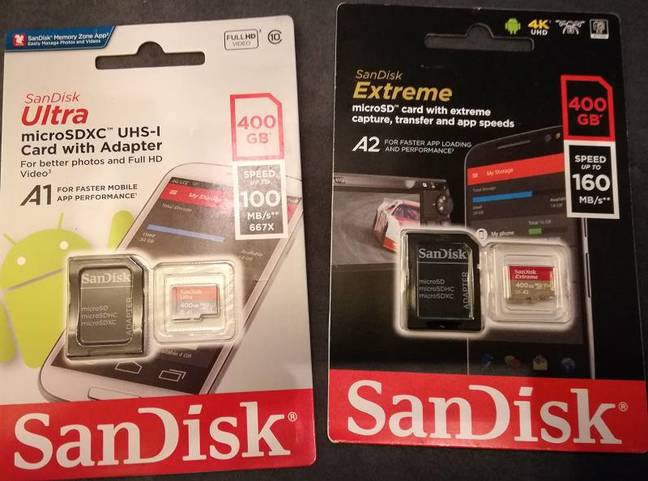 400GB local storage for your mobile
The idea is not new, but the implementations are getting better. At MWC SanDisk showed 400GB microSDXC memory cards with speeds up to 100 MBps, a reminder that on-board storage need no longer be an issue. Along with Microsoft's rather good Android Office applications, this may tip more people into not bothering to have a Windows laptop at all.
Linux and a keyboard on your smartphone, what's not to love?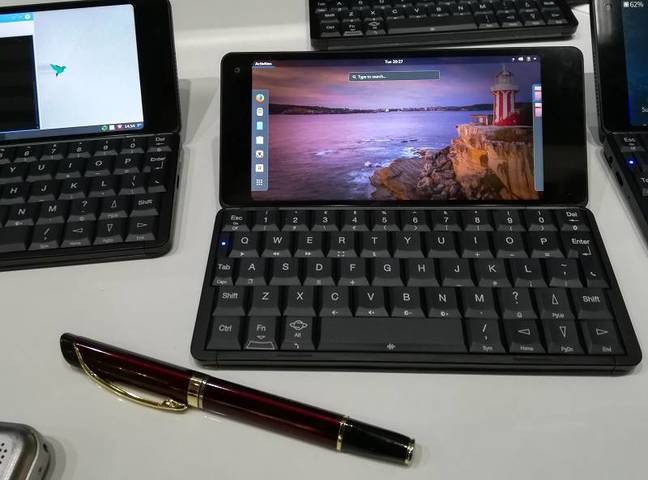 The Gemini PDA: Linux and a keyboard on a mobile
The most distinctive new mobile I saw at MWC was from UK startup Planet Computers, the Gemini PDA, put together by a team including ex-Psion designer Martin Riddiford. The two notable features of the Gemini ($599 with 4G) are first, the clam-shell mini keyboard, and second, that it dual-boots both Android and Linux. I tried typing on the keyboard, and while there is some benefit to a physical keyboard in terms of precision, I soon concluded that it is too cramped to achieve anything close to laptop speed, though it may be different for some. However, the ability to run Linux is a delight for techies; it is like having a battery-powered mobile Raspberry Pi and I can see this being useful for troubleshooting - connect to network, run favourite Linux tools and utilities.
The Gemini pocket PC is shipping and we've got one. This is what it's like
READ MORE
Beyond geeks? I asked whether mobile keyboard-love was now only for an older generation. "It's a good question. There is a nostalgia factor," admitted the guy from Planet. And if even keyboard-champion BlackBerry has now mostly retreated from physical keyboards on phones, why will this work for the Gemini?
"This product has been delivered in a year with a team that numbers four and a half. We're not BlackBerry cost-based," your correspondent was told. Planet is hoping for 2,000-3,000 units a month to make it commercially viable. Currently the biggest problem is getting the factory to come up with all the required keyboard layouts.
Sponsored: How to get more from MicroStrategy by optimising your data stack