Star Paws: Attack of the clones
The Streisand effect: Diva double-duplicates dead dog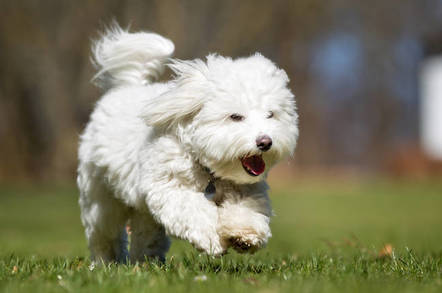 In the ultimate barking mad diva act, Barbra Streisand has revealed she cloned her beloved dead dog Samantha, creating two more replicant canines.
Streisand told Variety that her pets, Miss Violet and Miss Scarlett, were cloned from cells taken from the mouth and stomach of her beloved 14-year-old dog Samantha, who died in 2017.
"They have different personalities," she told the magazine. "I'm waiting for them to get older so I can see if they have her brown eyes and her seriousness," she told the paper.
She had to dress her hypoallergenic hounds* in red and lavender to tell them apart, leading to their names.
Apparently the procedure costs $50,000 (£36,196) a pop for dogs and half that for cats. Which seems a woof deal for felines.
But animal charity PETA isn't impressed, having released a statement encouraging people to adopt the abandoned animals instead.
"Because cloning has a high failure rate, many dogs are caged and tormented for every birth that actually occurs – so that's not fair to them, despite the best intentions. We feel Barbra Streisand's grief at losing her beloved dog but would also love to have talked her out of cloning."
Maybe PETA is worried that by unwittingly drawing attention to the act, Streisand is in danger of creating millions more cloned dogs… ®
* Apparently of the breed Coton de Tulear, Madagascar's national dog.
Sponsored: Detecting cyber attacks as a small to medium business