Is this why Facebook is such a toxic dump? HP, HPE sued for 'leaking chems' into office site
Stanford uni fumes at Palo Alto soil contamination cleanup bill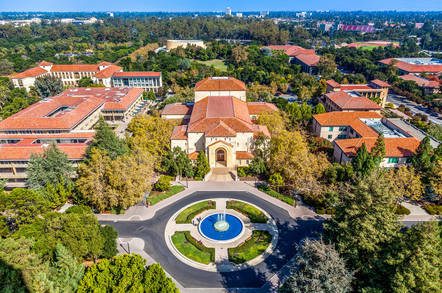 Stanford University is suing the descendants of Hewlett-Packard and Agilent for allegedly contaminating a property in Palo Alto, California, with toxic chemicals.
The Silicon Valley uni has demanding the IT giants pick up its hazmat cleaning bill to scrub the site of industrial solvents and other pollutants.
The property, 1601 S. California Avenue, was leased by the school to HP from 1970 through 2005. Agilent, a HP spinoff, used the building beginning in 1999 until 2005. In 2015, HP split into HP Inc and HPE.
After HP left, the building was inhabited by Facebook for two years before Zuck and Co landed at their Menlo Park facility in 2011. Facebook is not named in the lawsuit, and there is no suggestion Facebook caused or added to the chemical mess, but funnily enough, it turned into a toxic hell hole anyway.
Upstarts in solvent
Some time over the course of those three and a half decades, Stanford claimed, the building, while in use by HP, leaked polychlorinated biphenyls (PCBs) and trichloroethylene (TCE) into the soil. PCBs are used in things like coolant fluid, dielectrics, and carbonless-copy paper, while TCE is an industrial solvent.
When, in 2015, Stanford sought to build new faculty housing on the plot, they found the land contaminated with the two hazardous materials, and were forced to bring in a cleanup crew that cost it "millions of dollars."
Stanford reckoned the contamination occurred in the 1970s when HP used TCE in its manufacturing processes, then again in 1987 when PCBs were spread around the property by an HP construction project.
Now, the esteemed tech-bro factory wants the offshoots of HP the elder, and its Agilent subsidiary, to pay back the money it had to spend to get the land back up to environmental code. The college has filed suit in a US district court in northern California against HP Inc, HPE, and Agilent.
"Stanford has had to spend millions of dollars to clean up the contamination left on the Property by Defendants and to obtain the concurrence from the California Department of Toxic Substances Control that, as a result of the remediation, there is no significant risk to future residents," the complaint, submitted this month, read.
"The need to implement the remediation project caused delays and increased costs associated with Stanford's housing development project, resulting in losses and damages that Stanford seeks to recover in this action."
The school now seeks a jury trial to recoup its costs. HP Inc confirmed it leased the property as stated, and added that Agilent is handling its defense. Agilent declined to comment. A spokesperson for HPE was not available for comment. ®