Samsung's Galaxy 9s debut, with not much other than new cameras
Emoji-selfies are the headline grabber, improved desktop experience might be the market-maker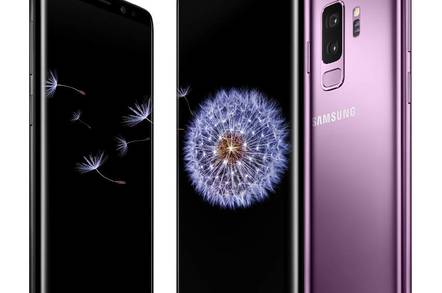 MWC Samsung has formally launched its next-generation Galaxy 9 flagship smartphones just ahead of 2018's Mobile World Congress in Barcelona.
This year's S9 and S9+ models feel like they're treading water versus last year's S8 and S8+. The screen spec is the same at 2960 x 1440 pixels, but Samsung says they're a bit brighter this year. The eight-core Qualcomm Snapdragon 845 is fractionally faster, the on-board memory is about the same – 4GB or 6GB of RAM, 64GB of flash – and there's an upgrade for Micro-SD capacity from 256GB to 400GB. Audio has been improved with the object-based Dolby Atmos system and better speakers; and yes, there is still a headphone socket. The OS is now Android 8 Oreo.
The S9 is half a millimetre thicker than the S8 (8.5mm versus 8.0mm) and a few grams heavier (163g versus 155g for the S9/S8 and 189g versus 173g for the S9+/S8+).
The big change for business users is a refresh of the DeX (Desktop Experience) dock. Introduced last year, DeX offered a dock that let the Galaxy S8 connect to a monitor and run a desktop-like experience.
This year the DeX dock has been replaced with the DeX Pad, which lets the handset lie flat and automatically turns it into a touchpad for the desktop. The DeXP Pad is also smaller than the DeX Dock which, now that users need only lug a keyboard around, makes the whole package more portable.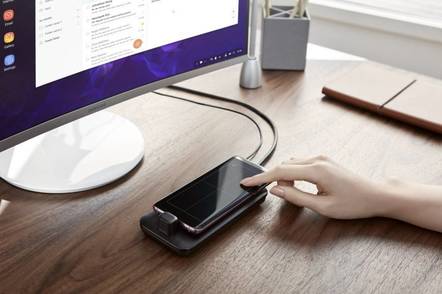 The new DeX Pad turns the Galaxy S9 into a touchpad when running in desktop mode
Say CHEEESE as a virtual Emoji
The biggest change to this year's handsets can be found in their cameras. The S9 has a dual aperture lens on the 12MP rear camera, supporting both F1.5 and F2.4. The wider aperture enables better low-light performance. The S9+ adds a second F2.4 telephoto lens.
The rear camera now has its own integrated memory which allows short bursts of 960 frames per second. This means you can replay video in what Samsung calls Super Slow-mo. If you turn on "motion detection", the feature kicks in automatically. It is a gimmick, but makes for some eye-catching effects. Note that you can only capture 0.2 seconds in each burst, which takes six seconds to play back.
Samsung's decided two hot trends - augmented realty reality and Emoji - deserve to be mashed together in a new feature called "AR Emojis".
To create this wonder, take a selfie and then let the S9 software convert it into a more youthful cartoon version of yourself that you can edit further. The emoji is not static, but will mimic your movements so you can record videos and save them as an animated GIF.
This is just fluff, yet was the feature that drew the biggest audience reaction at the launch event.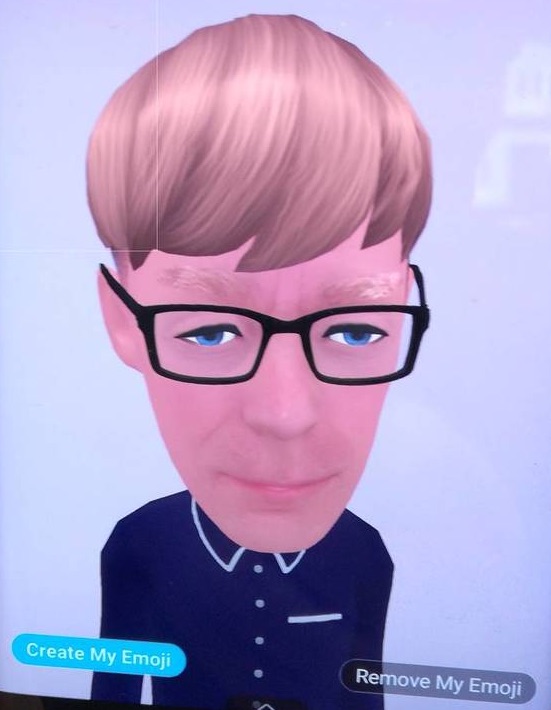 Dare we label this a 'Timoji'? Reg man Tim Anderson shows off a Samsung AR Emoji depiction of his very own mug
Another use of AR is via Samsung's Bixby app, which in combination with the camera can add information to images, including live translation, annotation of street views, and calorie information about a plate of food.
The S9 supports three modes of biometric authentication, with a fingerprint reader now positioned under the camera lens on the rear, as well as face and iris scanners on the front.
The S9's priced at £739 in the UK and $719.99 in the USA. The S9+ will be £869/$839.99.
And here come the Judges' scores ...
Has Samsung done enough with the S9 and S9+? The new camera looks promising, but gimmicky consumer features like AR Emojis do little to disguise the fact that Samsung does not yet have breakthrough AI or AR technology.
This year's models therefore feel like Samsung is treading water. That's risky in an intensely competitive market.
Samsung has, however, delivered very fine devices: on the basis of a quick hands-on demo we can report these new devices do perform well and look like a safe choice at the top end of the Android market.®
Sponsored: Becoming a Pragmatic Security Leader