National Museum of Computing rattles the bucket: Help shift war-winning proto-puter
Campaign to move a Bombe into historic Block H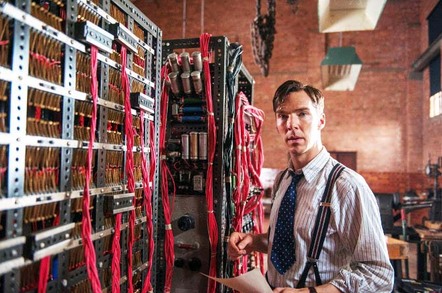 The National Museum of Computing (TNMOC) has organised a whip-round to move a historic code-breaking computer into a new location at Bletchley Park, England.
TNMOC wants to move the world's only working reproduction Turing-Welchman Bombe, as used for deciphering German Enigma messages during the Second World War, into Block H, its home.
The Bombe is owned by a separate trust and is elsewhere on the Bletchley Park site. During the war the park was home to the Government Code and Cipher School, a forerunner of today's GCHQ eavesdropping agency. Today part of the site is conserved as a museum.
The original Bombe machines were designed by maths genius Alan Turing and used to break the encrypted messages of the German High Command by deriving the daily encryption setting of German Enigma machines. Messages, including those sent to Germany's U-boats during the Battle of the Atlantic, could then be read and their contents passed to senior Allied commanders.
Numerous measures were taken to ensure the secret of the breaking of Enigma was not revealed to the Germans, including keeping the source of Enigma intelligence hidden from those on the Allied side who didn't need to know it.
The Turing-Welchman Bombe Rebuild Trust (TWBRT), which owns the replica Bombe at Bletchley, has agreed to move the electromechanical proto-computer to the historically significant Block H "within the next few months". The original building was erected to house the codebreakers' Colussus computers, which were used to break the Lorenz cipher that was used by the German Army during the war. Codebreaker Bill Tutte managed to break Lorenz and reverse-engineer the Lorenz machine's internal workings within six months, despite never having seen a machine in the flesh – something that was described by TNMOC as "the greatest intellectual feat of the war".
Andrew Herbert, TNMOC chairman, said in a statement: "To house the reconstructed Bombe close to the Colossus Rebuild makes a lot of sense from many perspectives. As a pre-computing electro-mechanical device, the Bombe will help our visitors better understand the beginnings of computing and the general thought processes that led to the development of Colossus and subsequent computers.
"The story of the design of the Bombe by Alan Turing, the father of computer science, leads very appropriately into the eight decades of computing that we curate. Even the manufacture of the Bombes leads directly to British computing history – the originals were built by the British Tabulating Machine company (BTM) in Letchworth, which later became part of ICT, then ICL and now Fujitsu."
John Harper, chairman of TWBRT, added: "Our team of volunteers is looking forward to continuing to demonstrate how the Bombes made their vital contribution to Bletchley Park's wartime role in the new venue. We thank the Bletchley Park Trust for their cooperation over the years and are pleased that the story of the Bombe will remain very much part of the story that it tells."
The crowdfunding project can be found on the Crowdfunder website. ®
Sponsored: Minds Mastering Machines - Call for papers now open