Vodafone boasts 200Mbps with 4G mini mast in Cornish trial
More kit to boost connectivity in rural UK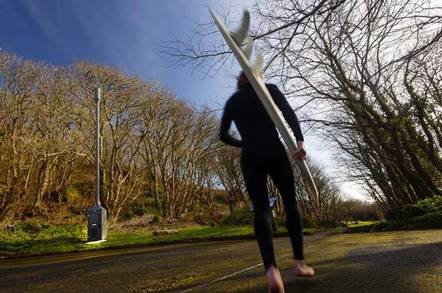 Vodafone has unveiled an eight-metre high "telescopic" 4G mast, intended to boost speeds in rural areas to 200Mpbs, following a trial in Porthcurno, Cornwall, UK.
Developed in partnership with infrastructure biz CommScope, the kit is aimed at rural hotels, leisure centres, retail parks and tourist attractions. Vodafone says it could have the same range as a standard base station.
Its major benefit appears to be the speed at which it can be installed, taking around six months to become fully operational, a third the time of standard masts.
Matthew Howett of analysts Assembly noted: "One of the main challenges with standard masts is getting the planning permission, consent, and finding a site can take a long time."
A Voda spokesman declined to put a figure on the take-up for mini masts, but said the business is in the process of closing a deal with a university campus and is in talks with a quarry company.
Derek Thomas, MP for West Cornwall and the Isles of Scilly (St Ives), said: "The quality of mobile phone signal in West Cornwall is a subject that is regularly raised with me, as is the need to protect and preserve our countryside.
"This new mast offers the opportunity to reduce the visual impact of phone masts, whilst addressing people's desire for improved connectivity. I'm pleased that the Vodafone mini mast is now in place and welcome any additional innovations that enable us to stay connected."
Sam Barker, senior analyst at Juniper Research, said its likely the mast will need to connect to a standard base station, 40-50 miles away. "This technology probably isn't going to revolutionise the way operators put 4G out there – it's just a way of tackling the not-spots. Rural areas have tended to be a bit of an afterthought for operators."
However, it seems vendors are increasingly looking at ways to improve signal and internet speeds in rural areas – a market that is historically far less viable to invest infrastructure in.
Last week EE unveiled its "shoebox"-sized 4G antenna, which it claimed could bring coverage to 580,000 UK homes in rural areas. ®