You've only gone and committed to becoming cloud native
Where do you start?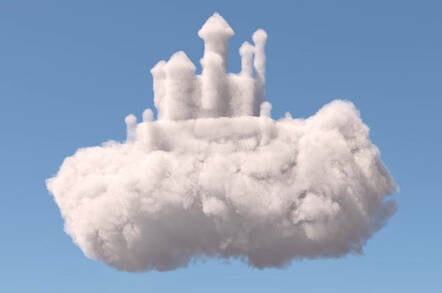 The IT department's transition from being an on-premises owner and manager of an IT equipment stack which provisions and plans data compute, storage and networking to being a responsive services provider is a 2018 priority for many.
Yet it is a bold step to migrate data management to the cloud in a way that delivers the responsiveness demanded by the business. Any sizeable company will have years or even decades of sunk investment in the traditional IT stack.
Data centres are most likely to have grown organically with industry standard servers, various types storage – direct-attached storage (DAS), network-attached storage (NAS) and the complexity that is storage area networks (SANs) – along with multiple generations of switching and router networking equipment which will have been rolled in, connected and configured and of course, patched and maintained.
It took years to get to this point, building on three-year industry standard hardware refresh cycles (or five-plus years since the 2008 global economic crisis and the need to sweat assets for as long as possible that followed).
It meant meetings with database, ERP, CRM and financials software salespeople out to convince you that competitive differentiation lay in signing another upgrade or perpetual licensing agreement.
And if it became unmanageable, the consultants were called in to make sense of it all.
As one IT director said: "Storage was provisioned on a forecast basis which was usually too low. And often once it was put in no-one ever checked if and how it was used."
Then with the advent of cloud computing the IT department of "Yes, eventually" became the department of "No, you can't do it in the cloud."
This attitude and reputation was not born of stubbornness but a recognition of the value the assets and data under management and the requirement for governance and security. However, the business end user did not always recognise these constraints and the reality of shadow IT and bypassing the IT department took hold.
The journey to becoming cloud native
In a perfect world, IT could become a responsive services provider by enacting a rip-and-replace strategy, dropping it all onto the cloud and setting up a charge back model.
But it is not a perfect world and we can't simply lift and shift it all to the cloud overnight.
However, business change and disruption is ongoing and 2018 is the year that many organisations will adopt a cloud-only or cloud-first policy. The question now posed is: How do I become cloud native?
According to the Cloud Native Computing Foundation, cloud-native computing uses an open-source software stack that is:
Containerized. Each part (applications, processes, etc) is packaged in its own container. This facilitates reproducibility, transparency, and resource isolation.
Dynamically orchestrated. Containers are actively scheduled and managed to optimise resource utilisation.
Microservices oriented. Applications are segmented into microservices. This significantly increases the overall agility and maintainability of applications.
It is about ditching the old waterfall method of delivery in favour of responsive and agile methods.
The Cloud Native Foundation is a neutral organisation working on a number of projects to deliver cloud-native systems for application development. The idea is for systems that are optimised for distributed systems environments and that are capable of scaling to tens of thousands of self-healing multi-tenant nodes.
Once the decision is made to embark on the journey to become cloud-native, a key consideration will be the management of data that ensures that you don't end up with two siloed platforms to manage.
You will not want to double your budget by having to manage on premises and cloud storage separately.
A system that can control on-premises workloads and cloud workloads simultaneously is, therefore, vital.
The cloud native checklist
In the future we will ask: Which came first, the transformation of the business or the transformation of IT?
In whichever order, due to heritage and the many elements to be considered, the transformation to becoming cloud native will not happen overnight. Rather, it involves defining the right technology blueprint for your organisation.
Getting that involves the following:
Asking what this means for the existing organisation.
Evaluating the business appetite for change.
Assessing how being cloud native will encompass service delivery.
Setting priorities and asking how quickly the business is ready to move.
Identifying applications that are ready and suitable for migration.
Thinking about current infrastructure and how to re-platform without incurring penalties or ending up with stranded costs.
Evaluating the available tools to help.
Asking if the business will be able to cope with the new, faster release cycles that will be delivered through a cloud native architecture.
Considering how IT team transformation can be achieved – how much of a cultural shift is needed?
Considering how to plan end of life for on-premises storage as you migrate.
According to consultants Deloitte, migrating a single application to cloud can seem straightforward but the challenges arise because more often that application's function is tied to multiple business processes. This may impact your vendors, your balance sheet, your regulatory compliance. Moreover, different stakeholders may have different motives and expectations from your move to cloud.
Suddenly, what seemed like a simple process can often turn into a fog of conflicting goals, broken dependencies, and cost overruns.
Deloitte's advice? Ensure that your applications are fully inventoried, relationships are mapped, and technical requirements are scoped. Assess risks and plan milestones along each application's pathway to cloud – and "align" those paths so that they lead your entire organisation to cloud through a sequenced, orderly process.
This shift to becoming cloud native has the potential to be tectonic. Cloud computing has been around for many years yet today barely 10 to 15 per cent of enterprise IT workloads run on the big public cloud platforms such as Azure and AWS.
This is in a total market which Gartner says will be worth $3.7 trillion globally in 2018.
David Bartoletti, vice president and principal analyst at Forrester, reckons that in 2018 we'll pass the magic threshold when more than half of global enterprises will rely on at least one public cloud platform to drive digital transformation. "Cloud is truly business critical and is now a mainstream enterprise core technology... cloud is no longer about cheap servers or storage," Bartoletti says.
Some big firms have already declared their intentions. It was back in 2016 that GE said it would put all applications not containing secret information into the public cloud – a migration that continues today.
To put the cloud migration potential in perspective, Gartner's 2018 spending forecast says data centre systems spending will be $179bn and IT services spending will be $985bn, topping $1 trillion next year. Gartner reckons enterprise software will "continue to exhibit strong growth" with worldwide software spending projected to grow 9.5 per cent in 2018, and it will grow another 8.4 per cent in 2019 to total $421bn. Organisations are expected to increase spending on enterprise application software in 2018, with more of the budget shifting to software as a service (SaaS).
The definition of digital disruption means that moving forward, in order to remain competitive, traditional enterprises must seek ways to model themselves with born-on-the internet firms and web-scale companies.
This requires thinking like a software company and shifting to an infrastructure that will accommodate DevOps, containers and microservices.
It means becoming cloud native.
This article was sponsored by: NetApp