ServiceNow plans non-devs writing non-code for real enterprise apps
Pledges simple workflow creation tools as next act after grand Q4 and FY 2017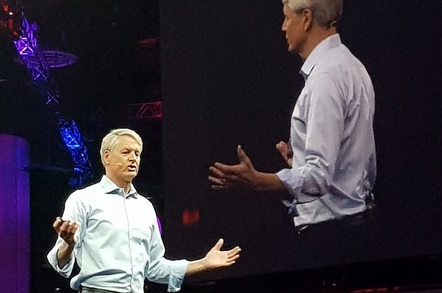 ServiceNow has put up a fine set of quarterly and annual numbers and offered guidance suggesting its best is yet to come as the company moves beyond its IT roots and prepares to let non-developer business professionals start to program its platform.
The company's Q4 2017 saw it bring US$546.4m through the door, all $497.2m of which was subscription revenue. That's 44 per cent higher than the same quarter in 2016. Growth for the full year was 42 per cent and produced total revenue of 1.933bn.
All that cash couldn't prevent losses of $27.8m for the quarter and $19m for the year, but investors weren't overly worried as the company beat estimates for revenue and earnings per share.
It also booked 41 deals worth over $1 million during the quarter, now has 500 such customers and added "more than 100 Global 2000 accounts in 2017."
CEO John Donahoe was understandably chuffed by the quarter and the year, both of which produced revenue records for the company. He was also delighted to report that the company's plan of wining over CIOs with workflow-assisted ITSM and then having them evangelise the company's approach to other business units appears to be working.
Evidence for that assertion was plenty of deals that saw ServiceNow's HR, security and customer service products sold alongside its core ITSM offering.
Donahoe said that the company's recent Kingston release has already been adopted by 90 customers, but that its addition of AI features will be but one of several enhancements users can expect this year.
"Kingston is really the beginning of what I think will be a rolling thunder, a rolling stream of improved user experiences," the CEO said on the company's earnings call. He added "… we're going to get serious about user experience using consumer Internet standards, not just enterprise software standards." A better mobile experience is a big part of that plan.
So is what Donahoe called "no-code development, where someone outside of IT can automate a workflow."
"And that's interesting because I would say probably a third of our use cases are not in our core platform because our customers are taking our platform and they're using it in workflows and in areas that we never even envisioned or imagined."
"And so increasingly, whether you're in facilities or you're involved in Internet of Things or you're involved in legal, people in those departments are building really fun and new and exciting automated workflows on top of the ServiceNow Platform. And this no-code development capability enables that."
[Apologies to any developers whose spines just twitched uncomfortably - Ed]
Guidance for 2018 predicted strong growth: revenue for Q1 was predicted to land between $525m and $530, while annual revenue forecasts were $2.355bn to $2,375bn. Both sets of figures represent 35 to 37 per cent year-on-year growth. Those numbers put ServiceNow ahead of other enterprise SaaS startups like Splunk and WorkDay, both of which are around the $1bn revenue mark, but behind Salesforce, the runaway SaaS startup star thanks to a $10bn revenue run-rate. Quite a few established enterprise operators sprouting SaaS out of their on-prem businesses also claim revenue beyond $2bn for their cloudy concoctions. ®