Brit market harshing Vodafone's buzz as sales slump continues
Dutch spin-off to Liberty Global also singled out as party pooper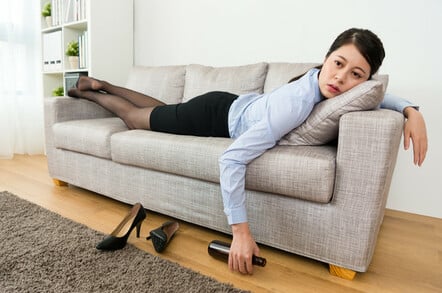 Vodafone posted a fall in sales of 3.6 per cent to €11.8bn (£10.3bn) in its third quarter results – with the UK market representing the biggest revenue drag.
Sales in Blighty fell 4.8 per cent to €1.5bn. Meanwhile, the biz blamed deconsolidation of Vodafone Netherlands, which has become a joint venture with Liberty Global, for the overall turnover hit.
Unsurprisingly, the company remained tight-lipped about whether a similar, long-rumoured tie-up in the UK was still on the cards.
The biz noted "improvements in consumer mobile and fixed line being offset by a slowdown in enterprise" in Blighty. Mobile service revenue also dropped by 5.2 per cent. The update only covered the top line revenue figures.
Megabuyte analyst Philip Carse noted that the growth in SIM-only plans continues to be bad news for handset vendors across the board "given that it removes subscribers from the usual operator-driven upgrade cycle".
He said: "The ongoing weak Enterprise performance has certainly been reflected in the multitude of results from Vodafone's B2B channel, with Vodafone's own commercial practices seemingly adding (at least in some cases) to market pressures."
The company reiterated its full-year guidance of organic earnings before interest, taxes, depreciation and amortisation of €14.75-€14.95bn.
Vittorio Colao, group chief exec, said: "We have maintained good commercial momentum in the third quarter. Data usage continues to grow strongly, and we have now passed the 100 million 4G customer milestone." He added that the performance underpins its "confidence that we will meet our guidance for the full year".
Shortly after the EU referendum in June 2016, Vodafone hinted it may pack its bags and relocate its London headquarters. The company noted that a large majority of its 462 million customers, 108,000 employees and 15,000 suppliers are based outside the UK.
However, Voda UK boss Nick Jefrfrey recently said there were currently "no plans" to move the HQ. ®