GOLD! Always believe in your role. You've got the power to know you're indestructible...
Always believe in... because you are GOLD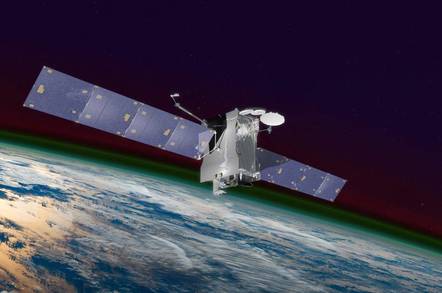 NASA's Global-scale Observations of the Limb and Disk (GOLD) instrument is successfully heading into orbit – after the Ariane 5 rocket lifting it into space worryingly lost its radio link with Earth.
The GOLD probe will investigate how space weather and Earth's magnetic field affects terrestrial weather conditions. It's the first NASA science mission to rely on a commercially hosted payload. By that the American agency means its instrument is attached to SES-14, a private-sector communications satellite that was put into orbit by said Ariane 5 rocket this week.
After the rocket blasted off into the skies, it lost its radio connection with ground control. Its telemetry signal vanished nine minutes into its flight at 7.20pm in Kourou, French Guiana, where it was launched, on Thursday.
However, Luxembourg-based SES confirmed in a statement on Friday "that it has successfully established a telemetry and telecommand connection to its SES-14 spacecraft and is setting up a new orbit raising plan now."
SES-14 will thus reach the geostationary orbit only four weeks later than originally planned. The spacecraft is, apparently, "in good health, all subsystems on board are nominal, and the satellite is expected to meet the designed life time."
So it looks as though NASA's GOLD mission is still going ahead, albeit four weeks behind schedule.
The GOLD instrument is an imaging spectrograph weighing in at just over 36 kilograms (80 pounds). It will capture ultraviolet images to monitor changes in temperature and the chemical composition of Earth's atmosphere. It's also sensitive enough to give scientists hourly updates on how the weather in space around our planet is changing.
The boundary between Earth's upper atmosphere and space is filled with highly energetic charged particles that are guided by our world's electric and magnetic field. Powerful events in the lower atmosphere, such as hurricanes or tsunamis, disrupt these charged particles.
It's these particles in the upper and lower atmosphere interact to affect space weather around Earth. Richard Eastes, GOLD's principal investigator at the Laboratory for Atmospheric and Space Physics at the University of Colorado Boulder, said: "That's where GOLD comes in: for the first time, the mission gives us the big picture of how different drivers meet and influence each other."
In other words, GOLD will study how our home world's weather, space weather and the planet's magnetic field interplay. Fascinating, as Spock would say. ®