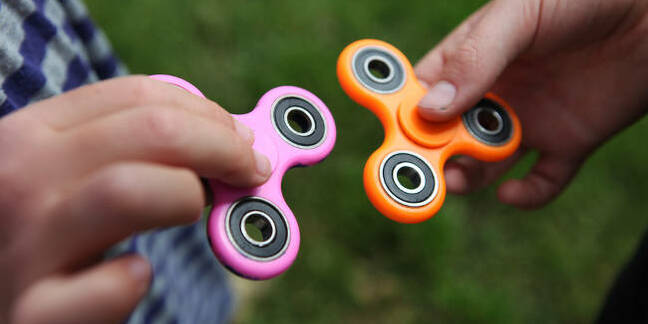 PornHub's annual deep dive into user stats and searches has revealed that, in 2017, people decided to take the fidget spinner trend to new levels.
According to the mainstream porn site's year in review, visitors were interested in new ways of using the seemingly innocent, if highly annoying, kids' toy. (Top tip: El Reg did an image search for such uses and can report it's NSFW.)
"The passing fascination with Fidget Spinners caused a big spike in porn searches (and some very creative amateur videos)," said PornHub.
This saw it enter the top trending searches in both the US and the UK, and among people who identify as men.
The top search term of 2017 was lesbian, and other big hits were equally predictable, including cheerleader, milf and threesome.
Elsewhere, the site's massive influence on the porn marketplace is laid bare, showing that some 3,732 petabytes of data were streamed during 2017 – or 118 GB per second – with 25 billion searches performed.
And – in case you weren't already aware of the amount of data companies like PornHub slurp up on users – the report makes it abundantly clear, by drilling down into everything from time spent online to browser and device used.
The report found that those in the Philippines spent the longest time on the site – an average of 13 minutes and 28 seconds per visit, more than the overall global average of 9 minutes 59 seconds.
Putin's nation, meanwhile, spent the least time on the site, with an average visit of 7 minutes 41 seconds - indeed, you might say they were Russian...
The most common desktop operating system for PornHub users was Windows – 80 per cent of users – and the most common web browser was Chrome (53 per cent).
For mobiles, the most common operating system was Android, used by 50 per cent of mobile users, with Chrome again the most popular browser (41 per cent).
But despite all this frivolity, there are times when porn users apparently have better things to do. For instance, there was a 8 per cent drop in traffic during the Strictly finale traffic, while the Great British Bake Off finale saw a drop of 3 per cent, as people tuned in to watch a different type of cream bun.
New Year's Eve also seemed like a time to be doing other things, with a 35 per cent fall in traffic in the UK – and Christmas Day saw a 30 per cent drop.
However, the same can't be said for Easter. UK traffic increased 7 per cent on Good Friday and 9 per cent on the Monday after. Perhaps people just wanted to celebrate a different kind of res-erection. ®
Sponsored: Practical tips for Office 365 tenant-to-tenant migration