Australia's future technology headlines … for 2019!
Predictions are like armpits, everybody has at least two and they often stink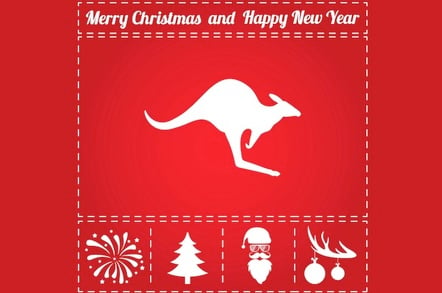 The technology industry loves to claim that the leaders of its Australian outposts are sages worthy of delivering prognostications from on high, rather than glorified territory managers with a continent to cover. So at this time of year they send El Reg predictions for what will happen on the local tech scene during the next trip around the Sun.
They're all either bunk or stuff from corporate PR, or both. Which is why Vulture South likes to make its own end-of-year predictions, but for the year after next.
Our track record with these predictions is decent: here are our efforts for 2015, 2016, 2017 and 2018.
On, then, to our predictions for 2019's technology news!
Comms minister Albanese refinances the NBN
When Australia's Labor Party wins Australia's 2019 federal election, current shadow communications minister Michelle Rowland will be nudged aside in order to put a heavier hitter in charge of the National Broadband Network (NBN).
Enter Anthony Albanese, who knows nothing about comms but will be explained as a good appointment because the NBN is modern infrastructure and because as Infrastructure Minister in the Rudd/Gillard/Rudd governments he managed to spend billions without a cock-up like the school halls and pink batts messes.
The most pressing reason for his appointment will be that Albanese remains the the most likely alternative to prime minister Shorten and therefore needs to be put in a ministry that is always poison to a political career.
Albanese will swiftly remake the board of nbn™, the company building and operating the NBN, and then set about rejigging its finances to relieve it of the burden of paying a commercial rate of return. Doing so will mean a huge change to the dreaded CVC that ISPs must buy to get their traffic carried on the NBN. In theory this will lower costs for ISPs while speeding up connections for consumers.
While the public will rejoice at the demise of the CVC as we know it, before long it will become apparent that the next bottleneck along – the near-monopoly on submarine cables – is far tougher to break with either regulation or legislation. Killing the CVC will also deprive nbn™ of the cashflow needed to upgrade its network. The net result: grumpiness levels on Whirlpool will not fall.
Data breach laws self-regulation fails as "serious harm" test found to have serious flaws
Australia's mandatory data breach laws come into force on July 1, 2018. And by the time 2019 rolls around, they'll be shown to be a shambles as Australian businesses decide that while they have been breached, the incidents did not pass the test of "serious harm" being done to their customers. So they'll keep quiet about the leaks.
A few leaks to the media later, it will become apparent that business has chosen to define "serious harm" in ways that let it ignore most breaches.
Cue shock-jock meltdowns, tabloid outrage, a chance for privacy advocates to say what privacy advocates always say, some grandstanding in Senate Estimates and a swift review of the legislation that recommends a more stringent test – all with threats of an end to self-regulation.
If Banks are the source of the undisclosed leaks, expect the affair to get even messier, especially if the Royal Commission misses its deadlines and is still running.
Cloud cleanups become a thing
Multi-cloud management looks like being the big thing for 2018. 2019 will see the emergence of cloud-cleaners, tools that figure out what you've forgotten about in the cloud and help you to sort out the data or VMs left behind.
Expect big vendors to add this to their cloud management kit, and startups galore to do their usual thing.
Alipay becomes an option for Australians
Chinese tourism to Australia is growing fast and plenty of students come here for a year or three of University. Between the two, demand for China-based payment services like Alipay will rise to the point at which local merchants start to offer them to local punters.
One or two of Australia's big four banks will jump on the bandwagon, a local version of Chinese payment apps will emerge and all sorts of hand-wringing about China, security, competition and the very future of money itself will ensue.
Various AI panics
By 2019 lots of AI will be running across Australia and some of it won't be perfect, leading to stories like:
AI took someone's job but does it worse and/or at higher cost
Autonomous car or mine train crashes, Australia panics about AI
AI weather forecasting gets it wrong (with attendant climate change denier frenzy)
Australia's very own mini flash-crash shows AI-driven algorithmic trading can't be trusted
And that's all we can dream up at this time of year. If you have better ideas, hit the comments. The Vulture South crew will return to active duty on January 8th. May the holiday season bring you joy, and here's to a healthy, prosperous and data-breach-free 2018. ®