Twitter's not dreaming of a white supremacist Xmas: Accounts nuked
Crackdown on hate kicks off, non-racist world celebrates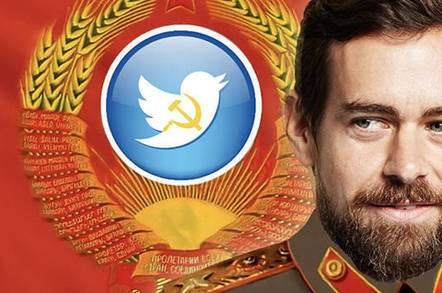 Twitter today started imposing rules designed to reduce hateful and abusive content on its service – to the delight of many, and fury of others.
Among the accounts suspended within hours of the biz enforcing the new policy – as scheduled – were those belonging to Britain First members as well as its leader and deputy leader, Paul Golding and Jayden Fransen.
The ultra-nationalist organization recently gained worldwide attention after US President Donald Trump retweeted several anti-Muslim videos on their Twitter feeds, sparking widespread condemnation. The accounts' suspension means that the videos have also been removed from the Twitter account of the president of the United States.
Other accounts that have been suspended are a range of US and UK-based white supremacist organizations and key figures, including: magazine American Renaissance and its editor Jared Taylor; The Traditionalist Worker Party; The League of the South and its president Michael Hill; Brad Griffin, who goes under the name Hunter Wallace online; Vanguard America; the English Defence League; Generation Identity; neo-Nazi Jeff Schoep; and others.
The suspensions have sparked their own hashtag - #TwitterPurge – which is, of course, the site of an angry exchange of views between supporters of the organizations and those fiercely opposed to them.
While some have publicly started worrying that their accounts are about to be suspended (some secretly hoping that they would be), others are annoyed that some high-profile white supremacists still have their accounts up and running, including alt-right leader Richard Spencer and "journalist" Mike Cernovich.
Enforcement
"Today, we will start enforcing updates to the Twitter Rules announced last month," Twitter stated in a blog post. "We've taken a collaborative approach to develop and implement these changes, including working in close coordination with experts on our Trust and Safety Council."
The new rules expand the existing ban on Twitter users making specific threats of violence against people and expands it to include "accounts that affiliate with organizations that use or promote violence against civilians to further their causes."
They also expand Twitter's review to offline activities: meaning that a group cannot run a clean Twitter feed but organize real-world events that encourage violence and expect to go untouched.
Twitter has tried to strike a balance by noting that its policy will not apply to government entities or groups that are "engaged in peaceful resolution". It describes behavior that breaks its rules as "celebrating any violent act in a manner that may inspire others to replicate it or any violence where people were targeted because of their membership in a protected group."
Accounts will be asked to remove individual posts that the San Francisco biz feels break this policy but repeated violations will lead to the account being suspended. It's not clear how many accounts have been binned so far, or whether they are permanent suspensions, but Richard Spencer claimed on Twitter to have lost 100 followers since the new rules started being imposed.
Not much fun in Stalingrad, no
Despite some angry complaints about Twitter's actions – which have included Photoshopped images showing Twitter CEO Jack Dorsey as Stalin – the overwhelming response to the account suspensions has been one of relief. Twitter has, for several years, been lambasted for giving a platform to groups with highly objectionable views. And the social media platform has increasingly been characterized as the least pleasant and most aggressive among its peers.
Those individuals whose accounts have been impacted have responded to their suspensions as you would expect. By claiming that it's not a problem, promising to create a new version of Twitter, and blaming the events on specific groups.
Jews have been popular targets, of course. But pretty much anyone who isn't white has had their turn. Fortunately for everyone else, these baseless, unpleasant and destructive attacks have been pushed back onto individuals' websites where people can happily ignore them, rather than on the public Twitter feed where many find them crop up in their feeds unwanted. ®