Telly boffin Professor Heinz Wolff has died
The Great Egg Race presenter was 89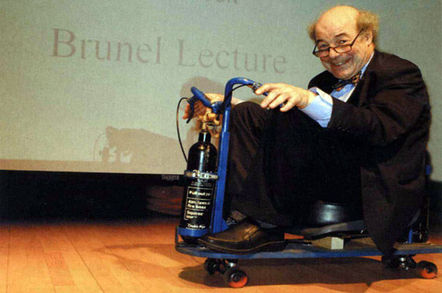 Obit Professor Heinz Wolff, the bonkers-haired boffin who brought delight and joy to millions of BBC viewers in the 1970s and 1980s, has died aged 89.
The German-born professor, who arrived in the UK aged 11 along with his Jewish family on the day that the Second World War broke out, was best known for his BBC 2 series The Great Egg Race, as well as the Nintendo Wii game Professor Heinz Wolff's Gravity.
He died of heart failure on Friday, 15 December. Brunel University released the sad news on Saturday.
"His trademark bowtie, memorable German accent and ebullient persona endeared Prof Wolff to British television audiences," the university said. Professor Ian Sutherland, one of Wolff's colleagues, described him as a "most inventive and inspirational leader", adding: "There was nothing he loved more than having a team of people around him devising completely new ways of doing things."
Graduating from University College London with a first in physiology and physics, Prof Wolff has been credited with inventing bioengineering, which Brunel defined as "the application of engineering principles to biological and medical sciences".
In addition to his telly appearances, Prof Wolff was a prolific scientist, being involved with the National Institute for Medical Research and the Medical Research Council, as well as being granted honorary membership of the European Space Agency in 1975. There, his research into human survival in hostile environments helped lay the path for Helen Sharman to become the first Briton in space.
While he theoretically retired in 1995 and stepped down from his directorship of Brunel's Institute of Bioengineering, even that couldn't stop his passion for science. In his 70s Prof Wolff was still working "four or five days a week" on new research and giving lectures to students.
He was also, in later life, behind a number of adult care initiatives, including "Give and Take Care", an idea intended to encourage younger people to care for the elderly in return for receiving the same themselves later on.
The professor was a common sight on Brunel's Uxbridge campus in the late 2000s, when your correspondent was a student there. He seemed very happy to have had one of the campus buildings named after him – to the point of basing his office inside it. Even the tough urban undergraduates held him in the highest of respect after he turned up to his 80th birthday bash riding a scooter propelled by a CO2 fire extinguisher (as pictured above).
Prof Wolff was also well known to the university's grounds maintenance team for wandering across campus roads without looking, which on one occasion put him into the path of a works van carrying a ton or so of woodchips. Mercifully, our brakes worked – the thought of being responsible for the beloved professor's early demise was terrifying.
He was married to his wife Joan until her death in 2014, and is survived by two sons and four grandchildren. ®
Heinz Siegfried Wolff, 29 April 1928 – 15 December 2017