Voda customers given green light by Ofcom to ditch contracts
Roaming hike of £5 a day means more to exit required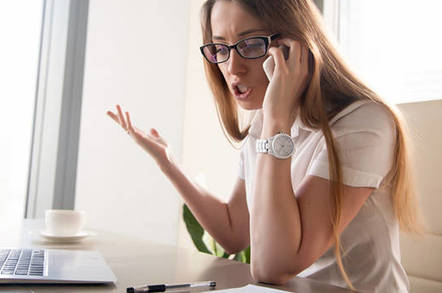 Thousands of Vodafone customers have been given the green light by UK comms watchdog Ofcom to ditch their contracts, after the mobile phone provider hiked international roaming fees to £5 per day.
Earlier this year, Vodafone introduced a roaming charge for customers travelling in 60 countries outside of the EU. This means that pay-monthly customers are now charged a flat fee of £5 a day, if they activate roaming services in these countries. Even if they send one single text.
Providers have to give customers 30 days to exit their contract if they make "material changes" to the T&Cs. Between April and May 2017, Vodafone sent text messages to all customers to inform them of the change to their contracts as a result of the Roam-further charge.
But the regulator said it had concerns Vodafone hadn't made it clear to all customers about their rights.
Customers who've found themselves paying more following the introduction of Vodafone's "Roam-further" charge have been given extra time to decide whether they want to leave the contract without paying a penalty, following intervention the the regulator.
Voda will now send new text messages to all customers who were originally contacted and others who may have been affected and give them another 30 days to exit their contract for free.
A spokesman from the mobe biz claimed Vodafone offers the UK's best roaming services.
"We were the first to abolish EU roaming with Roam Free which covers more destinations than anyone else. We offer 4G roaming in 125 destinations, including all Roam Further countries, and unlike others we do not throttle customers' data or charge them more to make in-country calls.
"Our customers tell us they like these products - with satisfaction scores up 16 points - and they are using four times as much data when abroad with Roam Further as it removes the fear of bill shock. We took on board Ofcom's views about notifications and will be sure to follow them whilst continuing to offer market leading products." ®
Sponsored: Quit your addiction to storage