IBM reminds staff not to break customers in pre-Xmas fix-this-now rush
Australian tentacle has mucked things up at bank and border security agency
Bosses at IBM's Australian outpost have been forced to remind staff to do their best work during the pre-Christmas rush – that time of year when outsourced clients want a lot of stuff done in a hurry before much of the world shuts down to overeat.
Internal communications seen by The Register this week state that human error by IBM staff caused "impacts" for clients including cockups that affected a government department with national security responsibilities, one of Australia's four largest banks, a significant regional telco, and Australia's largest airline. All are known to have outsourced work to IBM. We understand that the some of the "impacts" were far from trivial: one took down enterprise applications and saw an IBM client scolded by government regulators.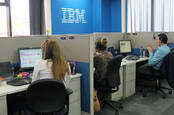 IBM's contractor crackdown continues: Survivors refusing pay cut have hours reduced
READ MORE
The missive goes on to say that IBMers really ought to avoid causing such "impacts," as requests for changes are likely to come thick and fast before a post-Christmas embargo on certain projects.
One letter we've seen said Australian IBMers should have no trouble delivering quality, because fewer than 0.5 per cent of the thousands of changes performed for clients over the whole year had failed. The Register understands that still means IBM Australia's outsourcing team has potentially had over 1,000 changes fail during 2017.
That low failure rate was nonetheless held up as the level of quality IBMers need to achieve in the next few days. Staff are urged to pause and deeply consider their work before making any tweaks or updates to customer systems, and to alert managers if a change looks in any way fragile. Staff have also been reminded of the official IBM checklist to consider when adjusting client systems. That document includes checking their qualifications and training make them suitable to perform a change they've been asked to undertake.
The Register understands the "impacts" resulted from staff not quite knowing how some IBM clients go about their businesses, and that those misunderstandings reflect a lack of corporate memory caused by Big Blue's many redundancies, freeze on contractors, and the resulting increase in offshoring to teams unfamiliar with client systems.
The Register has contacted the "impacted" entities for more information, and will update this story if they respond to our questions. ®