Trump to NASA: Fly me (or some other guys) to the Moon
POTUS also wants to Make Mars Great Again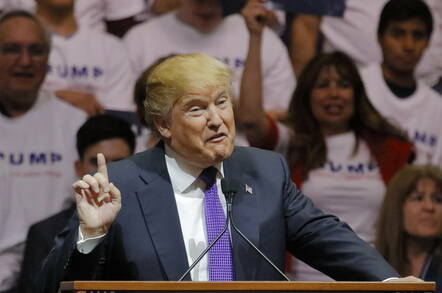 President Trump has called on NASA to focus its attention on returning humans to the Moon and landing on Mars.
Trump on Monday signed off on Space Policy Directive 1, an order that the American space agency prioritize the establishment of a base on the Moon and eventual plans to land people on Mars.
The directive also looks to engage private space companies and "partners around the world" in the effort.
"NASA looks forward to supporting the president's directive strategically aligning our work to return humans to the Moon, travel to Mars and opening the deeper solar system beyond," NASA administrator Robert Lightfoot said of the directive.
"This work represents a national effort on many fronts, with America leading the way. We will engage the best and brightest across government and private industry and our partners across the world to reach new milestones in human achievement."
The policy comes after recommendations from a National Space Council chaired by Vice President Pence recommended that NASA look to refocus its efforts on human exploration of nearby bodies, most specifically through a permanent base on the Moon and plans to get to Mars. They will, in the short term, have to make up some time.
While that sounds good there is a caveat. The government wants NASA to look outwards, but also wants it to do less work looking at Earth. The latest budget recommendations see NASA's Earth sciences funding cut by 13 per cent, leading the agency to cancel its involvement in some climate monitoring.
While an immediate timeline for landing on Mars wasn't given, SpaceX boss Elon Musk thought his company could pull off a mission to the Red Planet within the next seven or eight years. Previous timelines have called for Mars landings to take place some time in the 2030s.
The signing of Trump's directive took place 45 years to the day after the last Moon mission, Apollo 17 in 1972, touched down on the Lunar surface. Astronaut (and former Senator) Harrison Schmitt was at the signing, as was a 14-gram sample of Moon rock gathered by astronauts. ®