Coventry: Once a 'Ghost Town', soon to be UK City of Culture
Stalingrad's erstwhile twin will take the reins from Hull in 2021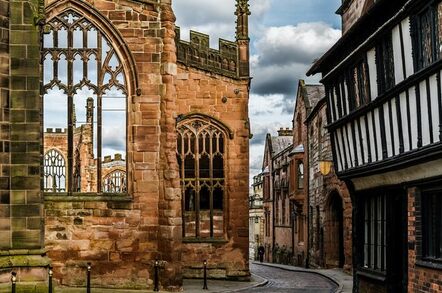 Coventry – the city that was flattened by the Luftwaffe and later inspired The Specials' urban decay anthem "Ghost Town" – has been named the UK City of Culture 2021.
The West Midlands metropolis beat Paisley, Stoke-on-Trent, Swansea and Sunderland to gain the four-year title, currently held by Hull and before that by Londonderry.
Snobs who turn their noses up at anywhere outside the M25 might be surprised to learn the the city has an illustrious history – beyond Lady Godiva's naked protest.
According to The Coventry Telegraph, Monty Python's first ever live performance was at the Belgrade Theatre in 1971, Paul McCartney was stopped for speeding on Fletchamstead Highway in 1968, and up until the 1860s, it was a hub for the ribbon-weaving industry.
Coventry also has a number of tech and engineering alumni. The inventor of the turbojet engine, Frank Whittle, hailed from the area, as does cyborg scientist Kevin Warwick. John Kemp Starley, father of the modern bicycle, founded the Rover Company in Coventry in 1883.
The city's name entered the German language when Joseph Goebbels used the term "coventriert", meaning razed to the ground.
Coventry and Stalingrad, now Volgograd, were the world's first "twin" cities when they established a twinning relationship during the Second World War. It was subsequently twinned with Dresden, another famously bombed city.
It comes after the EU cancelled the UK's previously agreed turn to have a European City of Culture in 2023, writing off bids from Belfast/Derry, Dundee, Leeds, Milton Keynes and Nottingham. ®
Sponsored: Detecting cyber attacks as a small to medium business