Japanese quadcopter makes overworked employees clock out
Drone to tell drones not to drone on with their droning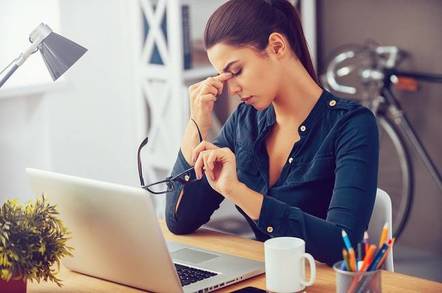 A Japanese company is using a quadcopter drone to help its employees know when to pack it in for the day.
Taisei, a Tokyo-based office management company, says that its T-Frend bot will start buzzing around offices next spring. The drone service, operated in partnership with NTT East and Blue Innovation, will fly around offices and track down any workers who stay past pre-set hours.
According to a report from AFP, the T-Frend bot is primarily designed to help employees keep a healthy work-life balance by hovering over them and blasting a closing time tune (in this case, Auld Lang Syne) until the workers shut down for the day and leave the office. (El Reg offices use a similar tactic, though it involves waving an open beer outside the front door at the end of the day.)
The idea, says Taisei, is to keep employees from wearing themselves out by logging too many hours. In a country known for its fanatical work drive, Japanese officials have begun to encourage workers to cut down on their hours in an effort to improve both the mental and physical health of their population.
Rather than rely on a boss or manager to push staff out the door, the drones will be able to automatically track down workers who have stayed in the office too long and nudge them out the door.
In addition to flying over the employees and showering them in song (or a buzzing sound, if desired) the drones will be equipped with cameras and SD cards to record their interactions. They will also feature facial recognition options that would allow the drones to double as security guards and recognize potential intruders.
The service, set to go live in Tokyo in April, will cost around ¥500,000 ($4,500) per month. ®
Sponsored: Detecting cyber attacks as a small to medium business