Hortonworks takes ex-sales manager to court over non-compete allegations
Ben Rudall challenged over move to Snowflake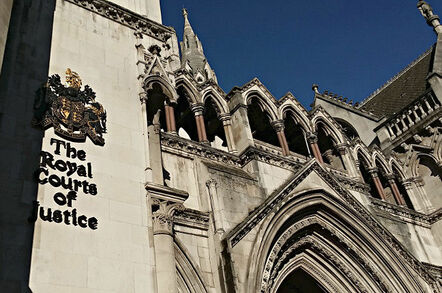 Hadoop-slinger Hortonworks has sought a court order against former enterprise sales manager Ben Rudall that would permit it take forensic images of his personal phone and his cloud storage account.
Rudall is currently UK sales director at cloudy data warehousing firm Snowflake Computing after leaving Hortonworks in August this year. He stands accused by his former employer of breaching various contractual non-compete clauses by: taking a job with Snowflake; sending Linkedin contact requests to people at Lloyds Bank; and inviting unnamed O2 employees to dinner.
At a High Court hearing in London, England, on Tuesday, Hortonworks argued before deputy judge Veronique Buehrlen QC for the imaging order as well as one to enforce non-compete clauses baked into his contract and an order to force Rudall to give evidence under compulsion.
The Register understands Rudall denies all contractual breaches, with his counsel, barrister Jonathan Cohen QC of Littleton Chambers, describing Hortonworks' application as "misconceived".
O2 Telefonica is a Hortonworks client and while Rudall ran the O2 account during his time at the company, he does not handle O2 at Snowflake, the court heard.
"What he now sells, compared with what he sold when employed by Hortonworks, is fundamentally in dispute," said Cohen. "In fact what the allegations are, are what the court sometimes sees where a jealous former employer has lost the services of a very able employee."
Nicholas Siddall, also of Littleton but acting for Hortonworks, said that Rudall had been told on the day he left that "if he went to work for Snowflake that would amount to a break of the non-compete restriction in his contract of employment."
After Rudall left the company, Hortonworks contracted FTI Consulting to take a forensic image of his old work laptop and the court heard that "approximately 60,000 partial or complete files" were recovered. Rudall had carried out a "mass deletion" before handing it back, Siddall said, raising suspicions within Hortonworks.
Siddall quoted from a statement made by Rudall: "I deleted files from my machine before the end of my employment because I had personal items [on it] ... Having been employed there for four years it was inevitable there was personal information on the machine. This is all I did. I have never conspired against Hortonworks."
The barrister alleged that this was a "different" account to one given previously, adding that Hortonworks claimed to have found porn on the salesman's old laptop: "It's difficult to imagine why there wasn't removal of pornography from the computer."
In return, Cohen said that FTI's correspondence made "no reference to pornographic material," saying that this allegation came from the witness statement of one Paul Power. A man of the same name holds the post of vice president for northern Europe and southern Africa within Hortonworks.
Quoting from that statement, Cohen added: "He says … in addition to mass deletion of data, it subsequently became clear that the laptop had been used to access and view pornographic material. He doesn't say it was found on there. When one goes back to FTI's email, you can see that in fact what FTI were able to infer was internet browsing history. They were able to recover internet browsing history."
The hearing ended with both sides agreeing to draft a revised order for the judge's approval, which The Register understands has yet to be finalised. A full trial is expected in early 2018.
In 2013 VMware sued Hortonworks in the US over alleged breaches of non-solicitation clauses designed to stop the poaching of staff. ®