Meet the woman with a supernatural affinity for stiff lovers
Something went bump in the night... over and over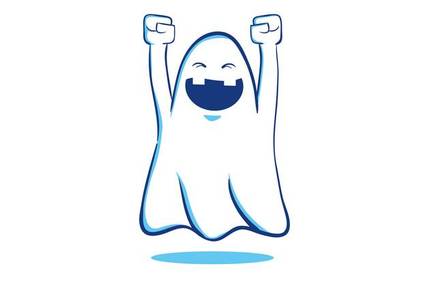 It takes all sorts to make a world and some on the fringes of life often turn up on daytime TV. And so El Reg was fascinated by the story of Amethyst Realm, who dumped a human in the, er, physical realm to become a ghostbuster banger.
Realm, a 27-year-old spiritual guidance consultant, told her tale of the lucky stiffs to presenters Philip Schofield and Holly Willoughby on ITV's This Morning, broadcast in Britain. She claimed she was caught cheating on her fiancé with a ghoul when he returned early from a business trip some 10 years back.
She said she had wanted to broaden the relationship with the saucy spectre and so had dressed in lingerie, moved into the spare room, flicked the light switch and waited for the earth to move. That phantom relationship then "fizzled out".
But "once you go ghost you never go back," she was asked. Clearly not, because since that first experience, Realm claimed to have bedded more than 15 spirits, getting jiggy in different rooms around the house, though "it was always in the building," she told the pair. Yes, outside would be kinky.
Silver-haired everyman Schofield responded that "presumably" the spooks found Realm attractive: "I should imagine you have got quite a name for yourself in the spirit world. They are all quite keen to visit."
Realm laughed and said, "There's been a few".
The presenters didn't stray into more shadowy territory to ask if Realm enjoyed standard soul sex - there was no mention of dead head - but Willoughby chimed in to ask how all this was possible.
"You can't put your arms around a ghost, so how does sex actually happen?" Realm replied, "It is more about the pressure, you feel a weight, a heaviness."
"And does it end with an orgasm," Willoughby shot back. "Yes", assured Realm. And for the ghost? "I hope so," she said.
Realm is not alone, the Daily Mail discovered more people last month that also claimed to have enjoyed breathless encounters with beings from the afterlife.
Well, if the spirit takes you, why not? Of course, the only blip on horizon is the danger of phantom lovers ghosting you once they've had their wicked way. Anyone in The Reg readership had a similar encounter?
While we are at it - so to speak - what music would perfectly accompany a close encounter of this kind? Over to you all. ®