OceanStor Dorado V3 put through its paces by ESG Labs
Huawei all flash array under the microscope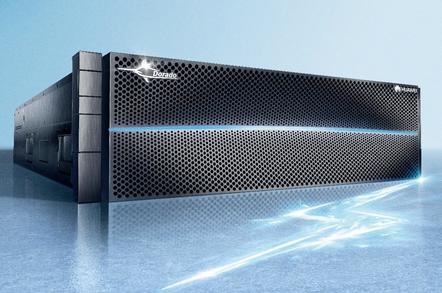 Sponsored In 2017 data protection, data growth and hardware costs remain top concerns for those in the market for All Flash Array (AFA) technology.
And while these topics are likely to stay near the top of the priorities list going into 2018, there are new areas of concern emerging.
Among these are total cost of ownership, increased workload complexity caused by virtualised environments, and the performance expectations put on flash storage systems within the data centre.
This is reflected in the types of workloads being classed as mission critical within the enterprise. Add the growth in the number of users, applications and transactions which demand reliable, cost effective and high-performance service and the challenges can rapidly mount, especially in times of investment uncertainty.
For companies today, large structured data sets are the norm. The sheer volume of data pouring into organisations is causing headaches. The amount of data being generated internally simply adds to this demand.
By solving the issue of higher server utilisation through virtualisation, and the issue of desktop management through virtual desktop infrastructure (VDi), this has added the management of distributed workloads to the storage mix.
This can push complexity onto storage platforms which were not designed for these types of environments. These include traditional hybrid storage and many first generation all flash arrays. Flash storage solutions should help simplify the situation not add to its complexity.
The sheer volume of email, database, and online transaction increases have pushed every business into the petabyte era, driving demand for individual systems which handle tens of terabytes of data each day. The Huawei Oceanstor Dorado5000 V3 is an enterprise level all flash storage array designed to manage exactly these demanding environments. But while saying it is one thing, having the industry's leading storage analysts describe it the Dorado 5000v3 as "clearly well suited" to this task is quite another.
As storage analysts ESG Lab says in a report on the platform: "Enterprise application environments have become increasingly unpredictable as their underlying IT infrastructure grows in complexity and size. Mission-critical business application performance is highly sensitive to storage performance and latency, and highly dependent on the resilience of the enterprise IT environment. The ability to consolidate mixed workloads and functions onto a single all-flash storage system has proven to provide significant TCO benefits if an organization's performance, reliability, and operational requirements can be met."
Total Cost of Ownership
The Huawei Oceanstor Dorado5000 V3 can be shown to have a lower five year TCO when compared with first generation AFA and hybrid storage solutions.
Under test conditions (see below) over five years, TCO for a hybrid storage system totalled $697,568, compared with averaged costs for a first-gen AFA of $636,134.
Under the conditions the TCO for the OceanStor Dorado5000 V3 is $186,137.
This is just 27 per cent of the hybrid storage cost and 29 per cent of the cost of a first-gen AFA.
Cost savings were similar across all three measured categories—hardware/software, maintenance/support, and power/cooling, found the ESG.
The ESG said: "We compared that with a hybrid storage system from a major vendor populated with 12 900GB 2.5" SAS SSDs and 652 900GB 2.5" SAS HDDs configured in RAID5 groups as well as a first-gen AFA populated with SAS flash drives."
The all-flash array costs were averaged from several systems from major manufacturers modelled by ESG to the same performance specification. All systems were modelled with equivalent software, plus power supplies, racks, and accessories according to each manufacturer's best practices.
Technology to manage costs
Effective capital planning and management is a key feature of the OceanStor Dorado5000 V3 through the use of deduplication, compression and thin provisioning technologies. These technologies combine to maximise data storage and "enable organizations to provision only what they need today, growing capacity on demand, non-disruptively."
SmartThin provisioning, SmartDedupe inline deduplication and SmartCompression technology provide significant data reduction in the OceanStor Dorado V3 and Huawei guarantees customers a minimum 3:1 data reduction ratio. It also offers to provide additional capacity to make up any difference.
The system includes a dual controller and Non-Volatile Memory Express (NVMe) architecture to reduce the latency in accessing NVMe-based storage and ensure high availability. It can scale to 16 controllers.
Failure testing for availability
All the performance and cost savings in the world are meaningless without consistent availability.
With increasingly diverse workloads and data centre topologies becoming more dispersed the issue of availability is becoming increasingly important.
ESG tested the Dorado5000 V3 system's availability in a variety of ways including a total power loss in a dual array set up to test switchover, a triple disk failure and RAID-TP rebuild.
For a dual array configuration it tested the Huawei HyperMetro technology. Huawei says if one array fails, HyperMetro will switch the failed array's workload to the redundant array immediately. If a link between a host and an array fails, HyperMetro will direct the host to the array which continues to provide data access.
ESG Lab tested two OceanStor Dorado V3s configured as a HyperMetro pair in different areas in the same data centre running an OLTP workload to simulate transactional database traffic on an Oracle 12c Real Application Cluster (RAC).
ESG simulated a failure of Array 1 by pulling the power cord.
As HyperMetro switched the load to Array 2 IOPS in Array 2 dropped to zero for approximately three seconds then resumed, servicing all requests from the cluster, for a total of 50,000 IOPS.
Latency jumped to a maximum of 4ms and 8ms on Array 2's controllers during the switchover then dropped back to an average of 250 µs.
With the OLTP workload still running, ESG Lab pulled three disks from the array at intervals of one to two minutes to simulate a cascading triple-disk failure.
The result was that IOPS gradually decreased and response time gradually increased as the array had to reconstitute data from parity on the fly. The array remained available throughout the triple disk failure without a significant degradation in performance. Total IOPS decreased from a total average of approximately 100,000 to approximately 80,000 while response time increased from the previously observed average of 250 µs to an average of 850 µs.
ESG Lab looked at RAID-TP rebuild times. With increasing dataset sizes, fast rebuild time after a disk failure or replacement is critical. It pulled a disk from an array populated with nine disks that hosted a 7.4TB volume. The rebuild of the 7.4TB volume took just nine minutes to complete.
Testing for real business
Testing a realistic business environment is key to valid results. The environment ESG Lab tested consolidated 12.25 TB of live data onto a single Dorado5000 V3 system, supporting 5,000 seats of Exchange users, 1,000 VMware Horizon virtual desktops, and hundreds of Oracle users, while consuming only 1.8 TB thanks to Huawei's data reduction technologies.
The consolidated environment serviced these workloads with sub-millisecond response times averaging just 300 µs and provided continuous access through multiple simulated failures.
ESG Lab reported that it was "pleased to validate that the Huawei OceanStor Dorado5000 V3 delivers consistently high performance at extremely low response times and is clearly well suited to support a mix of demanding real-world business applications running in a performance-critical highly virtualized environment."
For more detail about the report, you can visit here.
SPONSORED BY: Huawei