Windows Update borks elderly printers in typical Patch Tuesday style
Epson old-timers go from dot matrix to not matrix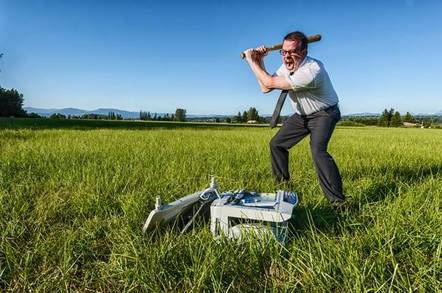 Updated Microsoft's latest batch of software updates for Windows has been blamed for a mysterious ailment befalling some poor old Epson dot-matrix printers.
Reg readers let us know that, after installing this week's Patch Tuesday payload from Redmond, their Windows boxes no longer work with Epson's dot matrix printers (which are still a thing, apparently, especially among those working with accounting software like Sage).
"I had two clients today whose Epson dot matrix printers stopped working after applying this month's cumulative update on Windows 10 and Windows 7," one tipster told us. "It just seems to eat the print job."
In a discussion thread on the cockup, netizens report having the same problem with their Epson printers being unable to print out documents when the dot-matrix devices are connected to their Windows 10 PCs via USB.
Other printer types, such as inkjet printers, are not thought to be knackered by the latest patches.
"I have 40 computers in my firm with dot matrix," wrote user Saintneo. "My customers are upset I can't print invoices to them. This is outrageous."
Other folks have suggested the problem can be traced back to the KB4048954 update on Windows 10, KB4048958 on Windows 8.1 and KB2952664 or KB4048957 on Windows 7. Some users have reported that removing those updates fixes the problem.
The software patches were bundled with Microsoft's November security fixes that addressed multiple exploitable flaws in Windows, Edge, and Office. It is not unusual for Patch Tuesday releases to cause unintended stability problems, which is rather annoying: either don't patch and get hacked, or patch and lose access to stuff.
Last month, for example, a misconfigured update was blamed for a bad batch of patches that caused Windows boxes on WSUS to blue screen when trying to boot up.
Neither Microsoft nor Epson have responded to a request for comment on the matter, and there's no word yet on when a fix could be released. Once again, Patch Tuesday is followed by Facepalm Friday. ®
Updated to add
Microsoft and Epson are now officially working to resolve this bug.
Sponsored: Detecting cyber attacks as a small to medium business