Connected and self-driving cars are being sent to Coventry
Finding out how to sail through consecutive green lights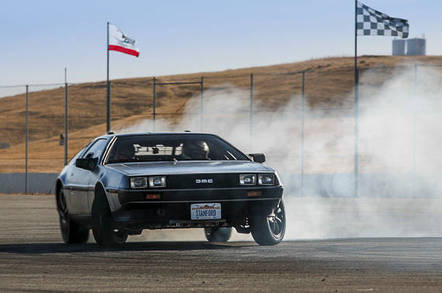 The UK Autodrive connected car consortium will start practical trials of its connected and autonomous cars on the streets of Coventry, it has declared.
Jaguar Land Rover (JLR), Ford and Tata Motors European Technical Centre (TMETC), all of which are partners in the project, are trialling a number of connected car features in the city, with JLR and TMETC also giving their driverless car tech an outing in the process.
The main Autodrive trials will explore whether cars that "talk" to each other and their surroundings are practical. Involved in this process will be connected traffic lights, emergency service vehicle warnings and emergency braking alerts.
In addition to the familiar blues 'n' twos, emergency services vehicles will be fitted with equipment that sends a "signal" to the connected cars, we are told. Other things the consortium will be trialling include "green light optimal speed advisory", enabling a lucky driver to sail through closely spaced consecutive green lights without getting caught in between phases.
"Intersection priority management" – that is, working out how two driverless cars will cope when they meet each other at an unmarked junction – will also feature in the trials.
JLR and TMETC are working on their own self-driving vehicle technology in a real-world setting, much like the multiple other trials taking place in locations across the UK including the M40 motorway, southeast London and other areas.
The trials will take place in Coventry and Milton Keynes in early 2018, followed by a series of "open road demonstration events" in both cities during the second half of the year.
"The fundamental purpose of UK Autodrive is to get connected and autonomous vehicle technology out onto UK roads, so the start of trialling on the streets of Coventry is clearly a major landmark both for the project and for the UK as a whole," said Tim Armitage, UK Autodrive project director, in a canned quote.
"Our previous private test track trials showed that the technology works but it is only on real roads that we will start to see the scale of the benefits that it can bring to the general public."
Autodrive commissioned some public polling last year which found that Britons are ambivalent about self-driving vehicle tech.
As well as the on-road testing of connected and autonomous cars in Milton Keynes and Coventry, UK Autodrive is also trialling a fleet of up to 40 self-driving pavement-based "pod" vehicles in Milton Keynes, with both types of vehicle due to take part in the project's final technology demonstrations next year. ®
Sponsored: Quit your addiction to storage