Fear not, driverless car devs, UK.gov won't force you to write Trolley Problem solutions
MPs kick the ethics question back into touch
AEV Bill A new law won't force driverless cars' software developers to explicitly consider the infamous Trolley Problem – but the UK government may later decide to implement something similar.
Clive Efford, Labour MP for Eltham, put down what he later described as a "probing amendment" to the Automated and Electric Vehicles Bill, which is making its way through the House of Commons.
That amendment would have meant the Department of Transport would have to approve each and every autonomous vehicle software suite before it could be used on public roads in the UK.
Key to Efford's amendment were "moral judgements" made by software, which he clarified after this afternoon's public bill committee, was explicitly intended to raise the Trolley Problem. In simple terms, who should a driverless car choose to harm if a crash is inevitable?
Although Efford's proposed clause was withdrawn, by mutual agreement, the question is a thorny one that has long vexed ethicists and others.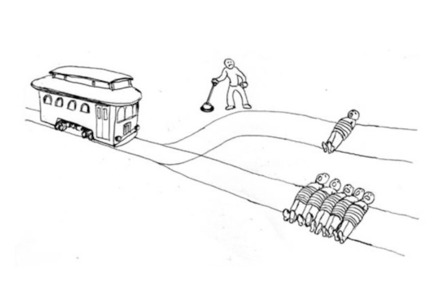 MPs also pondered what happens if driverless vehicles in a convoy – an idea that many have proposed for lorries, as well as making more efficient use of roads such as motorways – were to crash.
"The assumption in this bill is insurance companies will pay out. But we know that's not true. My own daughter had – no one was injured – it was a collision, her vehicle was damaged. It wasn't until insurance companies had sorted out blame, who had caused the dent in the vehicles, that the claim was settled. That took several months," Efford told the committee. "We may be creating a complication where the insured party, or no party in fact, gets paid for some time while these complications get sorted out."
John Hayes, the minister who previously suggested naming electric car charging points after himself, responded for the government: "We need discussions with the insurance industry before the addition of autonomous vehicles in platooning situations" to the bill.
Data sharing also came up again, this time in the context of granting access to driverless car data in the event of an accident. Karl Turner MP, Labour's shadow transport minister, said: "Data is a very valuable source for the insurer and other interested parties. The information gathered by these vehicles might be sensitive. Information that needs to be kept private could be damaging and abused in the wrong hands. The government should ensure the data is secure, private and only used by [the specified] other parties."
Conservative MP Oliver Letwin rejoined: "Does my honourable friend agree with me that without this clause the data will still be obtainable if one of the parties sought a court order to obtain it? Does he also agree with me that there'd be a cost for obtaining this information? Does he agree the requester should pay" even if later reimbursed, he added.
"I'd go further and say there's a balance to be struck between the collection of this data... and the privacy of drivers," commented Hayes, who added that the government is very interested in this area but wants to ponder it further before including it in legislation.
An accreditation scheme for technicians working on driverless vehicles was also withdrawn by mutual agreement between the MPs on the committee.
The Automated and Electric Vehicles Bill will now proceed to its third reading before the House of Commons, and following that will be debated in the House of Lords. ®
Sponsored: Becoming a Pragmatic Security Leader