Apple succeeds in failing wearables
Tick-tock, motherclockers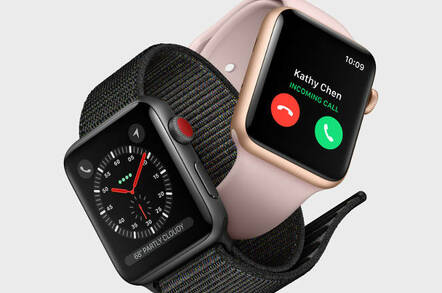 An expensive and clunky-looking watch that can't tell you the time* is once again clear winner in the failing smart wearables space.
Overall the market for things-on-your-wrist-with-a-chip-in dipped 2 per cent, or 17.3 million units, in Q3, but Apple regained top spot, according to Canalys, thanks to the third generation Apple Watch.
Apple sold 3.9 million units in Q3, buoyed by a product refresh which saw Series 3 introduced, which included an LTE model for the first time. CCS Insight believes Apple could have sold more as Watch 3 only went on sale in the third week of September, about halfway through the Quarter, and supply was constrained.
Fitbit sold 3.5 million units and perhaps surprisingly Xiaomi sold even more, with 3.6 million. Or perhaps not surprisingly, as Xiaomi's Mi Fit is $14.99, a fraction of the price of its rivals.
Apple withdrew all Series 2 Watch units from sale, and now positions 2015's Series 1 Watch as the new entry-level, starting at £249.
That must help, for Apple now ships a Watch for every seven iPhone 7 or 8 models it shifts, according to Canalys. For Huawei the figure is one smartwatch for every 14 P series or Mate devices, and for Samsung one for every 23 flagship Galaxys.
Although design choices and physical constraints – the small battery – restrict the functionality of the LTE version of the Watch, as we described here - Apple has done a much better job of taming notifications than Google has with its smart watches. For many Android apps, the equivalent Wear version is simply MIA. It earned a ticking off from the analyst outfit:
"Google must show stronger commitment to help Android Wear vendors, which are now mostly watchmakers and fashion brands, to further improve the user experience and app ecosystem. Otherwise, the market will see further consolidation, as vendors such as Apple, Samsung and Fitbit dominate with their watch software platforms," said Canalys analyst Jason Low. ®
*Footnote
You have to tap or flick your wrist. Still.