Advisory body to 'reconsider' ethics of hanging onto 'mugshots'
UK DNA Database Ethics Group's final annual report
The UK's national biometrics ethics advisory body has promised to reconsider the government's use of custody images.
The National DNA Database Ethics Group last year raised ethical concerns about the retention and use of "custody images" – which include pics of people who have never been convicted of a crime – on Police National Database. There are around 19 million of these images on the database.
It recommended that retention times of those pictures should be the same as for DNA samples and fingerprints, which are set out in the Protection of Freedoms Act 2012 (PoFA)*.
But in February, the Home Office published a review that revealed it had no plans to heed this advice.
Instead, it said that there should be no PoFA-style automatic removal of custody images from police records - but that individuals could request the deletion of their images.
Cops' use of biometric images 'gone far beyond custody purposes'
READ MORE
And, although the review said there would be a "presumption" of deletion for non-convicted people, the final decision would be down to the relevant police chief.
The move was roundly criticised at the time, and since then concerns have been raised about whether custody images are being used for other purposes.
In its latest annual report (PDF), published this week, the National DNA Database Ethics Group noted that the Home Office's plan didn't align with its own advice.
The report revealed that the Home Office has asked it to "consider again the ethical issues relating to the use of custody images", estimating this work would be complete in 2017/18.
Elsewhere in its annual report, the group said that it would review various other government projects, including plans to establish a central elimination database, which is said was making "steady progress".
This database will contain DNA profiles from people who come into contact with crime scenes, such as serving police officers or staff who manufacture DNA testing kits, in a bid to stop them ending up on the national DNA database after the contamination of crime scene samples.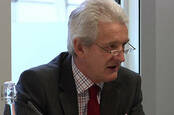 Biometrics watchdog breaks cover, slams UK cops over facial recog
READ MORE
The ethics group is also monitoring the policies and safeguards put in place for the UK's plan to rejoin the international Prüm convention, which allows international exchange of biometric information.
The UK opted out of Prüm in 2014, but at the start of 2016 said it wanted to rejoin. It has carried out a pilot to exchange DNA profiles with other countries - in which some 9,931 profiles were exchanged in less than six months.
The annual report said that it welcomed the government's position of rejoining, and supported the implementation of "robust governance structures, written into legislation, for the international sharing of DNA profiles and fingerprints".
In July, the ethics group was rebadged as the Biometrics and Forensics Ethics Group and given a broader remit, meaning this is the last report in its current form.
As such, it will publish a new set of governing principles it will consider when carrying out future ethical reviews in the new year, as well as updating its governance arrangements. ®
* For so-called "non-convictions" – that's people who've been arrested but not charged, or charged but not convicted – that's up to three years with a possible extension of two. You can have a look at PoFA here.
Sponsored: What next after Netezza?