Chipzilla drops dinkier Optane SSD, but don't expect it in data centres
The 900P might run Star Citizen smoother – emphasis on 'might'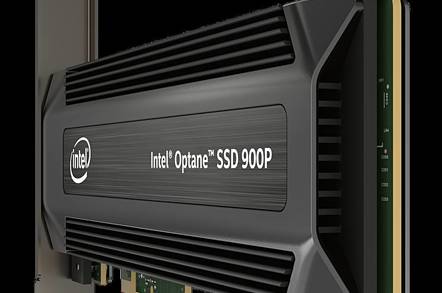 As spotted a couple of days ago, Intel has announced a smaller Optane drive – the 900P.
Optane is Intel's brandname for its 3D XPoint solid state technology which, with its <10µs latency, is faster than flash but slower than main memory. Intel is positioning it as a persistent memory cache between DRAM and NAND.
It follows on from the first Optane SSD, the P4800X, announced in March this year, which featured 375GB, 750GB and 1.5TB capacities, and came in HHHL Add-In Card (AIC) and U.2 (2.5-inch drive) formats.
There is also an M.2 format Optane card with 16 and 32GB capacities.
The 900P fits between these with its 280GB and 480GB capacities, and comes in both AIC and U.2 form factors. Its random read/write IOPS numbers are up to 550,000/500,000; virtually the same as the P4800X.
The sequential read/write bandwidth is 2.5/2.0GB per sec, marginally better than the P4800X's 2.4/2.0GB per sec. It has a 1.6 million hours mean time before failure rating, rather better than the 1 million hours of the P4800X.
The P4800X has longevity of 12.3PB written at 30 drive writes/day whereas the 900P only has 8.6PB written at 10 drive writes/day. Both drives have a PCIe gen 3 x 4 NVMe interface.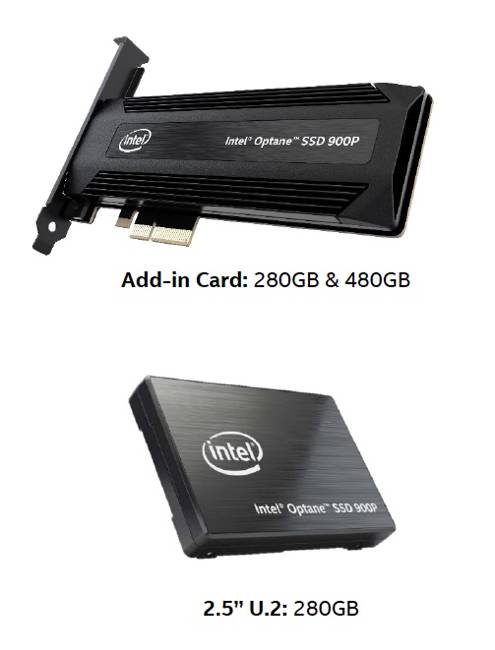 AIC and U.2 900P Optane drives
Intel suggests the 900P is for engineering workloads, media creation and game development, and gaming. Here is a performance comparison chart with a 512GB Samsung 960 Pro SSD: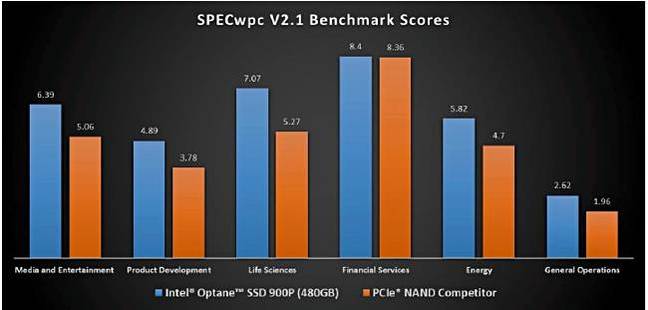 Click to enlarge
They are equal in the financial services application but Optane is faster in the other categories.
This is not a piece of general enterprise computing kit. It is for high-performance workstations and gaming PCs needing fast video display processing. In effect it is being used as graphics memory and its forte is gaming. Intel is marketing the drive as being suited for the multiplayer Star Citizen game.
This is fine and dandy but has little relevance to enterprise IT data centres. We wonder if Samsung's Z-SSD, based on fast SLC technology and with a 15µs read latency, will have a real role to play in data centres. Unless Intel can bump up Optane capacity and lower its price, it will look like an over-engineered niche product which will fail to meet its originally claimed potential of "1,000 times better than flash" in various dimensions.
Optane capacity increase will possibly come from stacking the chips rather than boosting the number of layers inside the chips from its current two.
You can buy a P4800X 375GB drive for $1,791 on Amazon – $4.78/GB.
The 900P's recommended sales prices are 480GB at $599 ($1.25/GB) and 280GB at $389 ($1.4/GB); much, much cheaper on a $/GB basis than the Amazonian price for the P4800X. Will there be a P4800X price cut now? Could be. ®