Forget One Windows, Microsoft says it's time to modernize your apps
Unpicking Redmond's strategy for devs following the launch of an updated Visual Studio
So what is the strategy?
The PC may be in decline, but Microsoft is endeavouring to improve manageability and security by making it behave more like a mobile operating system, including Store-delivered applications. Earlier attempts to sandbox Store applications have been relaxed, so there are fewer barriers to adapting applications for the Store.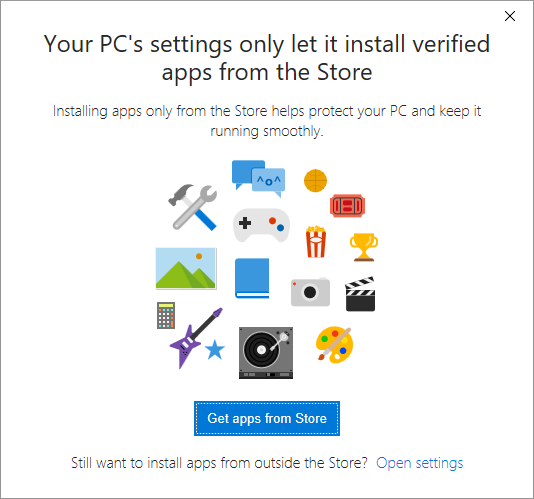 A PC set to Store-only applications is more secure and manageable
This is reflected in the continuing push for UWP and Appx packaging, which is essential for the strategy to work.
The difficulty is the large installed base of Windows 7 PCs which will never run UWP apps. In addition, the company has a hard task persuading desktop application vendors and admins using existing managements tools that they should move over.
On the consumer side, the Windows Store still suffers from its poor original launch, and it is not yet perceived as the first place to look for new applications. Indeed, most popular applications are not yet there. The apps will come when the mindshare is there, or maybe the mindshare will come when the apps are there, or maybe it will never happen.
Killing Windows Phone has also had long-term implications for Microsoft's Windows plans. Even as a minor player overall, maintaining a smartphone platform would have enabled end-to-end business solutions built on UWP and cloud services. Now Microsoft's developer platform efforts are divided between Windows on the one hand, and cross-platform Xamarin, iOS and Android SDKs on the other.
Despite the above, Microsoft has done remarkable work in modernizing the PC platform, and with its growing cloud services and Office 365 there is plenty of scope for Visual Studio developers building server-side or cross-platform applications.
After far too many shifts in direction, it also feels as if Microsoft's overall strategy is now more settled, giving developers more confidence that what they build today will not be wasted. ®