CEO of $300m-a-year ad upstart Vungle cuffed for allegedly sexually abusing toddler son
SF startup boss denies charges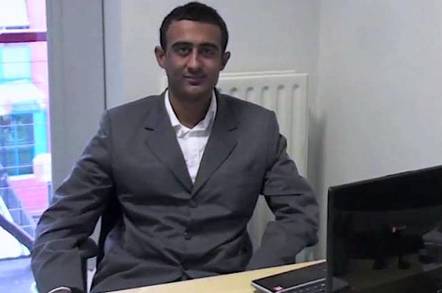 The cofounder of a San Francisco video advertising upstart has been arrested and charged with allegedly assaulting and sexually abusing his three-year-old son.
Zain Jaffer – the now-suspended chief executive of Vungle, a $300m-a-year mobile and in-app ad biz – was collared this week by the San Mateo County Sheriff's department. The 29-year-old was being held at the Maple St Correctional Center, and was removed from his position at Vungle almost immediately.
According to the sheriff's department today, Jaffer faces one count of child abuse, a lewd act upon a child, oral copulation of a person under 10, and assault with intent to cause great bodily harm. All are felonies. He faced an attempted murder charge a few hours ago, but that was dropped after prosecutors felt they didn't have enough evidence to prove he tried to kill his son.
Jaffer, who often appeared on TV and in the news and at conferences to speak about the online advertising world, also faces one misdemeanor charge of battery upon an officer and emergency personnel.
In a statement, Vungle said it has no information on the case beyond the public record, and is "shocked beyond words."
"These are extremely serious allegations," the biz stated. "While these are only preliminary charges, they are obviously so serious that it led to the immediate removal of Mr Jaffer from any operational responsibility at the company. The company stressed that these issues had nothing to do with his former role at the company."
The sheriff's department said Jaffer is next due in court on November 1. His lawyer, Daniel Olmos, said his client denies the charges.
Jaffer founded Vungle, a 200-person outfit, in 2011. He studied at the University of London and London Business School and in the UK, attended university in Silicon Valley, and led two other tech firms: Mediaroots and CyberPlanet. Vungle had bagged about $25m in funding to date. ®
Updated to add
Vungle's new CEO Rick Tallman had this to say in a statement shortly after this article was published:
We are aware of the extremely serious allegations leveled against our former CEO, and we are shocked beyond words. While these charges are completely unrelated to his former role at the company, they are obviously so serious that it led to his immediate removal.
We learned of the allegations late Monday night, and convened a board meeting, removed him as CEO and I was appointed permanent CEO all within 24 hours. He did not step down for personal reasons as has been erroneously reported. We removed him as rapidly as possible.
The actions of one individual are in no way reflective of the almost 200 dedicated and hard-working people who work for Vungle. Everyone at the company is appalled and deeply saddened by these events.
Sponsored: Practical tips for Office 365 tenant-to-tenant migration