IT resellers, this is your future: Shifting driverless cars within 5 years
Yeah or maybe not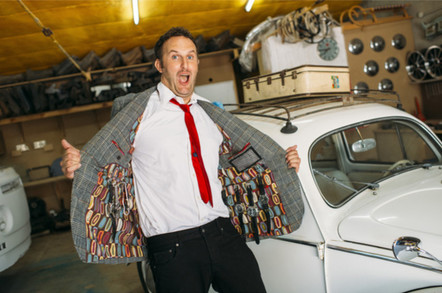 Canalys Channels Forum Tech resellers who are on occasion – and perhaps cruelly – compared to sheepskin jacket-wearing secondhand car dealers, might just be getting into game after all, if a veteran channel analyst is to be believed.
In one of the more left-field predictions from Steve Brazier, CEO at Canalys, channel partners resellers will soon be drawn into the driverless cars, trucks and boat-shifting game.
"Twenty per cent of you will be selling autonomous vehicles by 2022," he told a shocked audience of resellers, integrators and service providers at the Canalys Channels Forum in Venice recently.
Transportation will be "transformed" by driverless vehicles but "traditional car companies, we think, are likely to fail in this transformation", Brazier continued.
The automobile and transportation industries will continue to converge with the tech sector, the Canalys man claimed. Why? Because the priority of car makers is on "safety" first.
"They want to test and evaluate that everything works. That isn't the priority of the technology industry, which will go so fast in these technologies.
"Some of you will be selling cars, some drones, some boats. The transportation industry is coming very fast, think how you can benefit."
Is Brazier, who described the prediction as a "bit of fun", right about dealer diversification? "No," said Softcat CEO Martin Hellawell. "I don't think we'll be part of the 20 per cent".
Softcat sells only to business and public sector customers, not consumers, and the world of sales is generally about relationships. Or it should be.
"Autonomous cars [in the B2B market] will be bought by fleet managers, not IT people," he told The Register.
Obviously Google has invested in the development of autonomous cars, Intel bought car sensor maker Mobileye for $15bn, and a bunch of other vendors including Apple and Samsung are getting in on the game too. Maybe some of these companies local tech suppliers will too. Seems unlikely.
One car manufacturer that won't be willingly using middlemen any time soon is Tesla. Elon Musk's firm sells direct to consumers in Europe and has faced dealership disputes in the US, where it is illegal in many States to bypass independent dealers. ®