Verizon coughs up $18m after crooked contractor overcharged NY schools
How'd you like them Big Apples? US telco caught up in kickback scam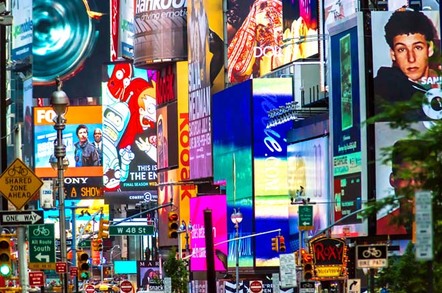 Verizon will have to reach between its couch cushions for $17.7m to shoo away allegations it overcharged New York schools for phone lines and broadband.
America's comms watchdog, the FCC, said the payment will settle out of court its complaint against the US telco giant. The row is centered on a technology consultant who took kickbacks between 2002 and 2008 while installing phone and internet services provided by Verizon, among other major telcos.
In 2011, New York City Department of Education contractor Willard "Ross" Lanham was found to have funneled taxpayers' cash through his own company from E-Rate, a government-funded program to install and maintain telecom services in public schools and libraries.
From 2002 to 2008, Lanham was put in charge of awarding all of the city's education tech contracts while also running a consultancy that worked on those projects. Verizon was named as one of the companies Lanham used for the scheme.
Here's how it worked, according to the FCC: Lanham would give Verizon the service contracts to provide broadband internet and phones in schools. Verizon would then use Lanham's consultancy to carry out the installation work. Lanham charged Verizon whatever he wanted, as high as he liked, keeping some of the money for himself as kickbacks. Verizon would then pass the costs onto the schools, which would pay from the E-Rate pot of public cash.
Lanham was convicted on felony theft charges in 2012, and was sentenced to 37 months in prison.
The FCC noted that Verizon had fully complied with its probe into this warped scheme, and the biz had in fact reported "errors" in the Department of Education's billing for its services as far back as 2004 – with offers to return excessive payments to E-Rate's overseers, the Universal Service Administrative Company.
Now, to settle the matter once and for all, Verizon has agreed to pay $17.68m in reimbursements for contracts it took with the NYC Department of Education during the time Lanham was in charge.
Verizon will also surrender any appeal rights to $100m in since-terminated support contracts it had for the DoE's E-Rate services. Finally, Verizon has agreed to implement an FCC compliance program for its E-Rate services that will run for the next three years. ®
Sponsored: Becoming a Pragmatic Security Leader