Grant Shapps of coup shame fame stands by 'broadbad' research
Or was it David Green or Sebastian Fox?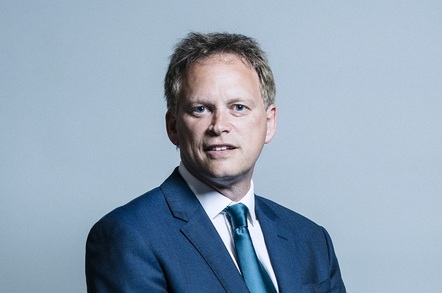 Interview Grant Shapps seems far from crestfallen after his disastrous attempt to lead a coup against UK Prime Minister Theresa May.
He bounces into his office 50 minutes late, having been waylaid by two Parliamentary votes, to discuss broadband research under his remit as chairman of the British Infrastructure Group (BIG), a body he set up last year.
"I'm so sorry, I've completely screwed up your day. My next meeting is in seven minutes. Let's try and be quick and I'll make them late," he says, smiling.
Heading up BIG is one of the many roles the former Conservative chairman has been involved in since his time in politics, although possibly the least prominent since his fall from grace within the party.
The many faces of Shapps
As well as serving as housing minister and holding a ministerial post in the Department for International Development (before resigning amid the so-called Tatler Tory bullying scandal), Shapps was exposed as having continued to work as "multimillion-dollar web marketer" under the pseudonyms Michael Green and Sebastian Fox after becoming an MP. His company supposedly produced websites that Google would "prefer" and sold the business self-help book Stinking Rich 3.
Shapps is personable and energetic. Spending 20 minutes with him feels longer – possibly because he's a fast talker. Although the whole experience does feel a bit like being speed-briefed by a management consultant.
On his whiteboard is the number 40, in reference to the number of co-signatures from MPs putting their names to his recent broadband report, a figure he says was closer to 50 in the end. That is significantly fewer than his first "broadbad" report, which achieved 120 signatures. Still, it remains more than his recent claim to have gathered 30 names of Tory MPs who want the Prime Minister to sling her hook.
Both his reports, intended to campaign for better speeds, have attracted criticism from industry observers who have accused him of using old data and conflating stats. The headline finding of the most recent report found that 6.7 million were not getting 10Mbps, a figure Ofcom disputed as being closer to 1.4 million. It appeared there was some confusion over availability and take-up.
"We never sought to say there are 6.7 million people who can't get 10Mbps," he says. Nevertheless, he reckons Ofcom is being overly optimistic about how many households can get decent speeds.
"I think they are just being a bit naive. Ofcom lumps all houses in a postcode as having access to superfast speeds once a cabinet can reach more than half of residents," he says. "I think on balance things are improving, I just don't think they are as good as Ofcom sometimes presents them."
He cites his own constituency experience in Essendon, a village southwest of Hertford, as an example.
"When I look at that on the Ofcom data, it looks like it's totally sorted. Yet I went there and it transpired that despite the Ofcom data showing it was rosy, it was just not the reality of what people were experiencing. We then mapped it by asking people to send in speed data reports. And Openreach said it turned out there was a problem. And then they supposedly got to work on it, and the deadlines slipped, so you get back into that usual [scenario]."
However, he admits there may also be a gap between what speeds are available and what people think they can get. "So my village, probably to get me off their back, they came in and put FTTP in of 300Mbps. It's amazing, but then there is a gap between people taking it up and availability. Actually, largely that's because operators don't tell people it's available."
Gripes with BT
Shapps is a vocal proponent of a formal separation between BT and Openreach, believing the legal agreement is ineffectual and the only way to improve investment is for a fully independent infrastructure arm.
He claims BT's voluntary offer of a universal service obligation (USO) – made by BT chief exec Gavin Patterson rather than Openreach – is symptomatic of the outfit's strategy still being driven by the former state monopoly.
"Obviously it is because they are not really split, it's just a pretend split," he says.
"It can't be right to have the biggest operator to stitch up a deal with the government over infrastructure and still pretend they have nothing to do with the infrastructure."
Naturally, Openreach denies the split is "make believe," saying it has already made fundamental changes to the way its governed and how it engages with industry.
"We support BT's voluntary offer on universal broadband coverage because we believe it would be faster and more efficient than a statutory [USO]. It would see us build the network proactively, rather than waiting for individual customers to place orders and the majority of homes and businesses would be upgraded to substantially faster speeds than 10Mbps," it says.
Shapps thinks ministers will go for the firm's voluntary offer, which would connect 98.5 per cent of premises by 2020, rising to 99 per cent by 2022, as opposed to a mandatory 100 per cent.
"It's the course of least resistance, no one likes to make laws that you don't need to make. And frankly BT do a good job in the most part of putting a good spin on it.
"What I don't like about it is again we are putting all our eggs in one basket. I think the market is anti-competitive, having a single provider linked to our biggest telecoms operator, I think, is the wrong model."
Former digital minister Ed Vaizey, who was at the helm when BT was handed its £1.7bn in broadband UK contracts for 24Mbps, is a BT apologist, he says. "I love Ed, but he is."
Current digital minister Matt Hancock, on the other hand, "is a bit more on it" in his approach to competition and full-fibre. "He's a bit more progressive, and I like his approach. And I think he has started to move things faster, he certainly says the right things."
Attention-grabber?
But isn't all this recent work in BIG just an easy way for him to get his name in the headlines? "As you discovered [last] weekend, I have no trouble making headlines. So I don't need more!
"I'm really passionate about infrastructure, post-Brexit it's even more important... and I'm very frustrated by amount of time it takes to get things done."
However, if people in the industry have accused his research of lacking rigour, doesn't that discredit what he's trying to achieve?
"I think that is something that people say when they want to undermine the research." Some people are determined to paint a rosy picture, he says, "and I'm not sure why."
His reason for BIG is "because I love infrastructure and I want it to get better, and by the way I'd also claim the BIG has had a real positive effect".
He credits the group with helping to create a divergency between BT and Openreach through Parliamentary pressure. "And I think ministers putting in quite a lot of money through successive budgets [into broadband] has been partly down to our pressure. In fact, I don't just think it, I know it because I spoke to ministers."
And with that Shapps dashes off to his next meeting. Wherever that is. ®