Don't fear the reap... er, automation: Puppet hopes to make IT boring, says that's a good thing
Tools will make peeps more attractive, it's claimed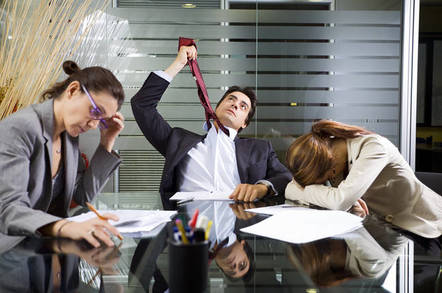 The revolution will not be televised because IT automation is boring. But it will be scripted and play out unseen, because boring is the desired state for computing infrastructure. Businesses just want their systems to work, without drama or excitement.
Puppet, a maker of devops software, is trying to broaden the boredom. Where automation tends to happen within companies in disconnected instances, Puppet aims to normalize the absence of intrigue across development and operations groups. It wants boredom that spans silos.
Toward that end and in conjunction with its annual conference in San Francisco, California, this week, the IT macro biz on Wednesday plans to introduce a slew of software to extend what can be automated in the cloud, in containers, on-premises, and anywhere in between.
"People may be afraid that automation will take away their jobs," said Alanna Brown, director of product marketing at Puppet, in a phone interview with The Register, "but automation has made devops practitioners more valuable to their organizations."
Puppet likewise sees its value tied to the ability of its software to make automation available across organizational infrastructure. Brown said the automation roadmap is unclear to users and CIOs. So Puppet, like competitors Ansible, Chef, and SaltStack, wants to pave the way toward more mechanized IT development and operations.
Organizations want to know how to take pockets of IT automation and extend that capability everywhere. "Customers tell us it's too hard to get started and stitch together the entire devops toolchain," said Brown.
To jumpstart the process, Puppet is rolling out software called Puppet Discovery, because the way to automated nirvana begins with enumerating everything in the world of virtual machines. Just as physical inventory at large companies presents a challenge, virtualized resources defy easy management.
"Organizations simply don't know what they have," said Brown. "That makes it difficult to know what to automate."
Puppet Discovery aspires to reveal computing resources in VMs, on-premises, in the cloud, or within containers. It provides visibility into VMware vSphere VMs, AWS and Azure, and containers. And eventually it will support other cloud vendors.
Brown said the software could be used, for example, to find out which software packages across various containers are outdated.
Puppet Discovery can also be wired up to Puppet Tasks, a set of tools for triggering automated scripts. Puppet Tasks includes Puppet Bolt, an open source task runner that executes commands via SSH (Linux) and WinRM (Windows), and Puppet Enterprise Task Management, a more comprehensive task execution system fitted to the company's enterprise offering.
The enterprise version of Tasks arrives in Puppet Enterprise 2017.3, which includes enhancement like a Package Inspector, the Puppet 5 Platform, Configuration Data, and Japanese language support.
Finally, the company has digested Distelli, the Seattle, Wash.-based maker of continuous integration/continuous delivery (CI/CD) software acquired in September, and is disgorging its assets for public consumption. These include: Puppet Pipelines for Applications; Puppet Pipelines for Containers; and Puppet Container Registry.
"The goal of continuous delivery is to ensure your deployments are uneventful," said Brown. "There's a lot of drama around deployments because they aren't fully tested." ®