German Firefox users to test recommendation engine 'a bit like thought-reading'
Data capture tool that analyses 'surfing activity' will land in ~1% of browsers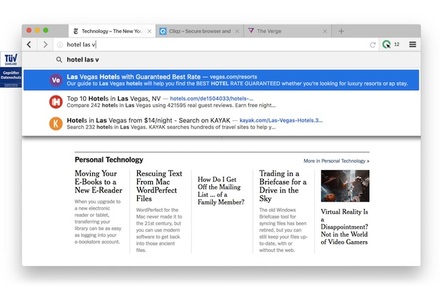 POLL Mozilla has decided to experiment on its German users by opting-in around one per cent of them to a search recommendations service that slurps their browsing histories.
The recommendations will come from Cliqz GmbH, an outfit in which Mozilla has made a "strategic investment". Cliqz says its browser offers optimal privacy but also has the following functionality:
Just imagine. You search for something and even before you have finished typing this is what happens: your browser completes top relevant search results and website suggestions as if on its own. Only one click and you are where you want to go. This feels a bit like thought-reading. No other browser can do that.
There's an image of what this looks like at the top of this story (or here for m.reg readers)
Mozilla's German language blog styles the idea as an "experiment" and explains that "the surfing activities of those users who receive a Firefox version with Cliqz are sent to the Cliqz servers; including the URLs of the pages they visit."
"Cliqz uses various methods to ensure that sensitive information is removed from the surf data before it is sent from Firefox," the post continues, adding that Cliqz does not create profiles of individuals who use its service.
Mozilla says its revealed the trial in line with its "No surprises" data protection policy and is conducting it only in order to improve the Cliqz experience and perhaps, one day, the Firefox experience too.
Over to you then, dear readers. What do you think of this experiment? Vote in the poll or hit the comments! ®
Sponsored: Becoming a Pragmatic Security Leader