He's no good for you! Ofcom wants to give folk powers to dump subpar broadband contracts
It's not you, it's m- ... No, wait, it's totally you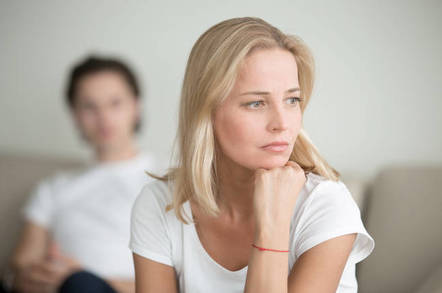 Ofcom has proposed forcing providers to disclose more accurate speed information at the point of sale and hand consumers the power to walk away if speeds fall below a guaranteed level, in a crackdown on service provision.
Under the move, providers will have to 'fess up to the slowest speeds consumers are likely to receive at "peak" times. Once customers are signed up, if a service drops below the guaranteed minimum, providers will have a limited time to improve speeds before letting customers walk away penalty-free.
The right to exit will also apply to contracts that include phone and pay-TV services bought with broadband.
The gap between advertised speeds versus what is received has long been a problem for many broadband users. A survey by consumer group Which? recently found that households only hit their advertised broadband speeds 58 per cent of the time.
Lindsey Fussell, Ofcom's consumer group director, said: "We want broadband shoppers to know what they're buying, and what speeds to expect. So we plan to close the gap between what's advertised and what's delivered, giving customers a fuller picture before they commit to a contract."
Gillian Guy, chief executive of Citizens Advice, said: "Many people seek our help each year because their slow and intermittent broadband service falls short of what their contract promised.
"For most people, a reliable broadband connection is a necessity – so when they don't get what they've paid for they should always have a quick and easy way out of their contract."
Dan Howdle, consumer telecoms analyst at Cable.co.uk, said: "Broadband remains to this day, as far as I know, the only service you can still buy with no guarantees about what exactly it is you're going to get.
"By emphasising the slowest speed a customer is likely to get at peak times, speed numbers are likely to more closely match user experience." However, he said whether that benefits the majority of consumers who are largely unaware of how these numbers apply to day-to-day usage "is questionable".
New rules on broadband speed advertising would have to be coupled with guidelines to ensure customers are informed as to how the speeds apply to the broadband usage of their household, he said. "Otherwise it's just a case of swapping one meaningless number for another."
Earlier this year, the Advertising Standards Authority said broadband providers may have to ensure at least half of customers can receive advertised top-line speeds, under a proposed crackdown on misleading marketing.
A final decision on the proposals will be made early next year. ®
Sponsored: Becoming a Pragmatic Security Leader