Nest cracks out cheaper spin of its thermostat
Now just $169 if you're willing to lose the hi-tech look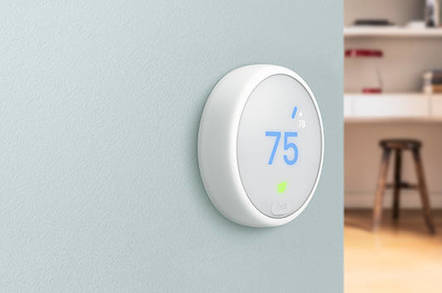 Nest has launched a low-cost version of its famous smart thermostat aimed at the mid-market and priced at $169.
The Nest E has a slightly different look and feel, but retains all the engineering and software work that has made the thermostat the poster child for smart homes.
At $80 cheaper than the original thermostat, the company is hoping to entice millions of new customers who want a better thermostat but find the original price tag too high.
In order to get the price down, Nest has ditched its high-resolution glass screen and metal rotating ring and replaced them with a lower-resolution frosted glass look and a polycarbonate (fancy plastic) ring.
The device works the same as before and, critically, includes all its features – meaning that it is much easier to use than a traditional beige box, and contains a degree of intelligence and learning that should reduce people's energy bills significantly. The Nest app will work the same but will have a different look-and-feel to reflect the new device when you go into the related thermostat page.
According to Nest's research, many consumers prefer the E's gentle blended-in look in their homes, with the original thermostat seen as "too techie." Nest marketing manager Julia DeIuliis described the difference as between "an oil painting and a watercolor."
The colors of the new E are a gentle orange and green and the "glacier grey" of the device was chosen to blend in better with most people's walls. As to the feel of the device, the rotating ring feels like pottery, according to DeIuliis, and has a textured "grippiness".
Pay off
Critically, the price reduction means that the Nest E should pay for itself within one year, rather than two. And, Nest is keen to point out, the ever-growing number of rebates that utility companies are offering for smart home devices means that you could effectively get the thermostat for free. (Rebates vary from region to region but average out at around $100.)
The thermostat market currently comprises three tiers: cheap, low-end and ugly-looking beige boxes; mid-market thermostats with color screens and sometimes their own apps; and the high-end market dominated by Nest and Ecobee that offer a wide range of features and high-quality design and build quality.
The smart thermostats do work. Nest claims to have independent analyses that say its product will save the average family between 12 and 15 per cent of their heating and cooling costs – which amounts to savings of between $132 and $165 using an average HVAC bill of $1,100 a year.
There is one more trade-off with the E over the original thermostat however: it has killed off the most advanced configuration options and has just six rather than 10 potential wire connections.
That means if you have an advanced two or three-stage HVAC system, you would still need to buy the more expensive thermostat. Nest estimates that this reduction means that the E will be compatible with around 85 per cent of systems in the US, where the original is compatible with 95 per cent.
Grippy
We have yet to play around with the Nest E, but given that it has retained its design and swapped out some materials, and given the company's consistently high attention to detail, and the fact it has retained all its useful features, we would expect it to steal a good chunk of the thermostat mid-market. It is available now and will be in stores from mid-September.
Nest's goal is to save 100 billion kilowatt hours in the next four years. Since its launch in 2011, the Nest has saved an estimated 14 billion kWh. But with this thermostat, and the company's expansion into Scandinavia, it expects to see a massive expansion of its devices – and their energy savings capabilities – across the world.
The company also sees its thermostat as an ideal entry point into people's homes, getting them used to the idea of smart home devices and acting as a future hub for other devices, either produced by Nest or other companies' products that work with Nest.
After all, how many thermostats have you ever bought and/or replaced? The company hopes with the Nest E that for many people that answer will soon become "one." ®