Northern Ireland cops hired cybersecurity biz to ID critics on Twitter
Anonymous trolls censured force's management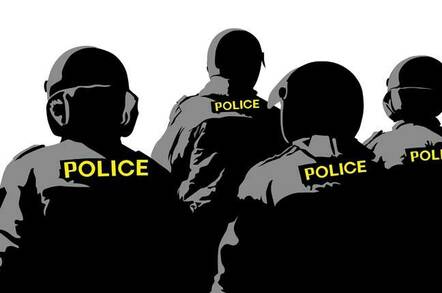 The Police Service of Northern Ireland reportedly hired a private cybersecurity firm to unmask anonymous Twitter accounts of officers and staff allegedly involved in online racist abuse.
The accounts also appeared to publish information about ongoing police operations, according to the Press Association.
The force confirmed that Twitter activity by persons purporting to be police officers was under investigation.
The internal police probe was opened 12 months ago after the PSNI's chief constable, George Hamilton, came under fire for comments he made on social media to an officer.
He was responding to a tweet, which said: "Police expected to do more roles than ever anticipated by Sir Robert (Peel)! Social worker, paramedic, child minder etc."
He answered: "I know – more complex & challenging but we are here to serve so let's get on with it rather than wallowing in self pity!"
The officer hit back: "Far from self pity. If I wanted to do their job I would have applied. Just keep taking their responsibilities & no one says no."
Hamilton replied: "Well you're allowed to leave & seek another job – nobody is asking you to stay. Dry your eyes, do the job or move on!"
He was later forced to apologise.
Following the exchange, a number of anonymous Twitter users criticised the chief constable and posted complaints about the job and PSNI management. A fake recruitment video was also made and posted on YouTube by one of the Twitter users under investigation.
A security source told the Press Association it was around this time that the private security firm was asked to help trace the suspected owners of a number of Twitter accounts.
The source said the account that began to cause the greatest concern to management was being run under the Twitter handle DonYeeoo because of alleged racist and sectarian comments, trolling of other social media users and sharing of classified police information.
Some of the tweets under investigation, which have since been deleted, include: "Saudis in general just are disgusting people. Intelligence and money means nothing. Horrible dirty culture."
Another tweet said: "White people at Black Lives Matters protests are the worst of the worst ... and should throw themselves into the sea."
A source close to the investigation said photographs of locations within PSNI buildings that the Twitter user had posted, as well as data assistance from Twitter, have been used to trace the person suspected of running the account.
"He was smart using VPN (virtual private network) etc and it took a while for Twitter to provide information necessary. He started getting sloppy. Location pictures led to his downfall. CCTV was played back at the locations," the source said.
It is understood investigations are still ongoing.
The Register has asked the PSNI for comment. ®