FTC told to cough up informants' memos in Qualcomm antitrust row
Court rules chip designer has right to view letters behind royalties abuse claim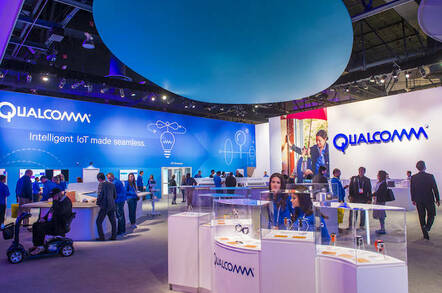 America's trade watchdog has been ordered to provide copies of the letters that led to its antitrust probe into California chip designer Qualcomm.
In a San Jose district court ruling on Thursday, Judge Lucy Koh told the FTC it must give the Snapdragon giant copies of the "dual submission" documents in question – some of them from foreign governments and some from anonymous informants – as part of the discovery process in the case.
Both sets of documents have been used by the FTC in deciding to bring its competition lawsuit earlier this year against Qualcomm. The trade commission has accused Qualy of using its dominant position in the mobile chips market to force customers such as Apple into signing favorable patent licensing deals for technology that, allegedly, they don't even use.
The commission had argued that, for the foreign documents, it has the right not to disclose evidence that could undermine US state affairs, and for the informant documents it has a duty to protect its informants from retaliation by Qualcomm.
Koh, however, disagreed, reasoning that neither of the claims stood up under closer examination.
In the case of the foreign documents, Koh noted that the FTC had obtained them from third parties that were already in the US, undermining the commission's claims that producing them would impact US foreign affairs.
"Neither the FTC nor the foreign entities have provided the Court with any foreign laws or privileges that would be violated by the production of those documents, which are located in the United States, to Qualcomm," the judge said.
As to the evidence provided by the informants, Koh found that the FTC had not shown that protecting the sources would override the rights Qualcomm has to view the evidence against it. In fact, Koh contends, the FTC has been so secretive about the documents that it was impossible to determine whether they need to be protected or if the information in them could be found from another source (without the need for a court order).
"As to the FTC's other arguments regarding the unimportance of the documents and the alternative means of obtaining the information, those arguments are unsubstantiated because the Court does not know what is in the documents," Koh explained.
"Moreover, Qualcomm asserts that the FTC conceded the dual submissions documents are relevant to the case, and that upon reviewing them, it may find them 'critical' to its defense."
Koh said that the FTC has to give Qualcomm the foreign government documents by August 31, and the informant materials by September 23. Both sides now have 14 days to file any objections to the order. ®
Sponsored: Detecting cyber attacks as a small to medium business