UK taxman forks out to parents after glitch smacks child benefits site
HMRC: But we got less than 1,500 complaints about the tech…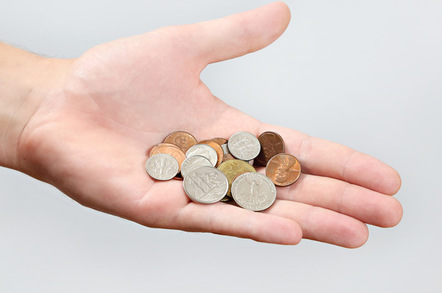 The UK government has resorted to manually issuing childcare payments, and has paid out £45,000 in compensation, after technical glitches meant parents couldn't access their accounts on a new childcare benefits website.
The government's Childcare Service website - which allows parents to apply for two new benefits: tax-free childcare and 30 hours' free childcare - was launched in April.
But it recently came under fire after parents were reportedly unable to access either their accounts or the phone helpline, and Treasury Committee chair Nicky Morgan called on HMRC to explain the site's performance.
The committee has today published HMRC chief exec Jon Thompson's response, which reveals that the site was down for 160 hours and 8 minutes between 21 April and 8 August, including for planned maintenance.
The longest period was 23 hours and 11 minutes from 11.36am on 4 May, with the next being 15 hours from 6pm on 6 July.
As of 16 August, Thompson said that 2,600 parents – or 1 per cent of applications – "need a technical issue to be resolved before we can confirm eligibility".
Manual processing
In a bid to ensure that tech issues haven't stopped eligible parents gaining access to tax-free childcare, HMRC has had to manually issue them with either a payment or childcare code.
Thompson said that, as of 8 August, 1,138 codes for 30 hours' free childcare had been issued manually, while HMRC had made 373 manual payments to childcare providers on behalf of applicants to the tax-free childcare scheme.
The government has also had to pay parents compensation if they were unable to use the site to pay their childcare providers.
"A total of £45,687 has been paid as compensation in lieu of the government top-up parents would have received if they had been able to access their accounts and as redress," Thompson said.
According to the response, HMRC has received more than 250,000 phone calls to the helpline - although some of these were about general eligibility queries or parents calling with extra information - along with 1,507 complaints about the site.
Thompson said that the complainants represent less than 1 per cent of all customers - some 208,000 parents having successfully applied for an account.
However, more than 90 per cent of the complaints were related to technical issues - and Thompson said HMRC was "unable to say definitively how many parents have experienced intermittent difficulties at some point when trying to access their childcare account".
HMRC's analysis "indicates that just under 5 per cent of users" saw at least one 'technical difficulties' screen during their application, Thompson said. But he stressed that this didn't necessarily mean they couldn't continue with their application, saying it might have gone through after the parents refreshed the page.
The response said there are around 18,000 incomplete applications on the system: most of these (10,257) are more than four weeks old, while 1,794 are three weeks old; 2,116 are two weeks old; 2,102 one week old; and 2,023 less than a week old.
Meanwhile, 4,227 parents have closed their accounts, with 2,000 of these doing so because they chose to remain on tax credits, which can't be claimed in addition to tax-free childcare.
"Further improvements needed'
Of the parents that chose to provide feedback on their experience, around three-quarters said they were satisfied or very satisfied, compared with 8 per cent who were dissatisfied or very dissatisfied.
Thompson said in his letter to Morgan that he was "very sorry" that some parents experienced problems with the service, and emphasised the improvements that HMRC was making to the site.
However, Morgan said that although it was "welcome" HMRC had improved the site since its launch, "clearly further improvements are still required".
She added: "The Committee will no doubt want to question representatives of HMRC on the technical issues with the Childcare Service website when they are called to give evidence." ®
Sponsored: Becoming a Pragmatic Security Leader