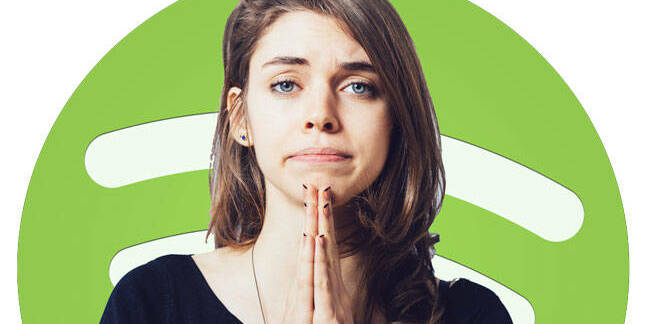 Spotify has been cleared of exposing children to sexual and masturbatory innuendos because the Advertising Standards Authority thinks Britain's Got Talent is unlikely to be watched by kids.
The regulator ruled that the ads, containing mildly explicit references to procreation and teenage self-love, were OK to be broadcast during prime-time Saturday night telly shows Britain's Got Talent and Take Me Out because they had been given "a scheduling restriction to prevent them being broadcast in... programmes... likely to appeal to children".
Britain's Got Talent was watched by more than one in ten of the UK's population on the night that the offending Spotify ads were broadcast. 7.2 million people tuned into the talent show, known for its family-friendly offering of dancing dogs and wannabe pop stars.
One of the adverts in question featured a family sitting at a dinner table. While the son sang along to a song, the mother turned to the camera and said: "What he doesn't know is that he was made to this song. In this room. On this table."
The other showed a teenage girl outside a closed bedroom door, with music being heard from within. She said to camera: "Yep. Bieber's 'Love Yourself'. I think we all know what's going on in there."
64 people complained about the first ad, while another 18 complained about the second one when it was broadcast during the following week's episode of Britain's Got Talent. Two others complained about the first ad being shown in a cinema before Guardians of the Galaxy Vol. 2.
Spotify successfully defended itself by telling the ASA that the Clearcast organisation, which pre-approves broadcast advertising in the UK, had OK'd both ads on the basis that "neither programme was commissioned for, nor principally targeted at, children". Spotify described the ads as "using mild and subtle sexual innuendo in a discreet and tongue-in-cheek manner" and added that they did not include any nudity or overt sexual references.
For its part, ITV said that audience viewing figures for Britain's Got Talent and Take Me Out supported Spotify's proposition because "the proportion of child viewers for both programmes was significantly below the threshold at which they would be considered to be appealing particularly to children". The broadcaster also pointed out that BGT "often included mildly profane, flippant and tongue-in-cheek content and behaviour".
As for the cinema ad? Despite being shown right before a film based on the Marvel comic strip universe – albeit one with a 12A certificate – Spotify successfully convinced the ASA that the ad "was not addressed to or directly targeted at children", and at its worst might cause a few familial blushes "for children or their parents".
"Minors in the audience of a 12A film were likely to be older and have some knowledge of the facts of life," said a poker-faced Spotify.
"The audience data bore out that, while the programmes had general appeal, they did not have particular appeal to children," said the ASA, dismissing the 80-plus complaints. ®
Sponsored: Ransomware has gone nuclear