Biz sends apps to public cloud, waves 'bye to on-premises server folk. NO! WAIT!
Cloud cost rises, growth pushes staff demand up again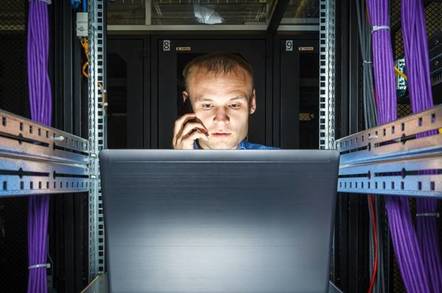 Research has found businesses need to hire more server staff – but they're in limited supply.
In the latest Voice of the Enterprise: Servers and Converged Infrastructure study, 451 Research finds that 64.7 per cent of its respondents are wanting to recruit server-focused staff, up from 62.1 per cent a year ago, due to business growth. But some 42.4 per cent are needing more server staff because of IT organisational changes, and that's up from 24.2 per cent a year ago.
The recruiting difficulties cover both servers and converged infrastructure, and the picture drawn by the 451ers starts with businesses taking advantage of the public cloud to send applications there, reducing the need for on-premises server specialists. This tends to reduce the overall pool of server staff.
The 451ers say 69.7 per cent of respondents said current candidates lack skills and experience. There is also a lack of candidates by region, and high salaries point to a shrinking pot of available talent.
Another trend is that towards converged and hyper-converged infrastructure and more automation, orchestration and even software-defined technologies generally, which sends the need for server specialists down while positively affecting that for server generalist staff.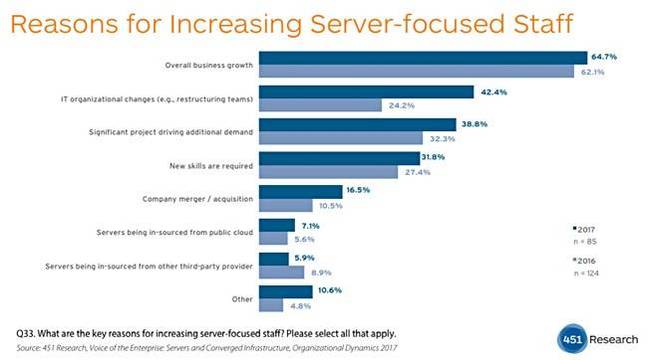 Click chart for embiggenment
However the cost of using the public cloud rises as more of it gets used and that starts a countervailing tendency to run more applications on-site, while still using the public cloud, for which you need servers and server staff to deploy, optimise and run them.
Companies are finding it hard to recruit the server staff they need, both specialist and generalist. Christian Perry, Research Manager and lead analyst of 451 Research's study, said: "The good news is that there remains a need for specialists across both standalone servers and converged and hyperconverged infrastructures. This is especially true within LOBs or remote divisions or departments."
But, Perry said: "When determining the optimal mix of on- and off-premises compute resources, there is no doubt this is hampered by the availability of specialist skills and regional availability. Whether organisations will realise their expected server staff expansion remains to be seen due to hiring difficulties."
The 451ers suggest that server, converged and hyper-converged system suppliers need to work with their customers to help them understand long-term staffing needs better. For example, choosing a hyper-converged approach could reduce the need for server specialists. ®