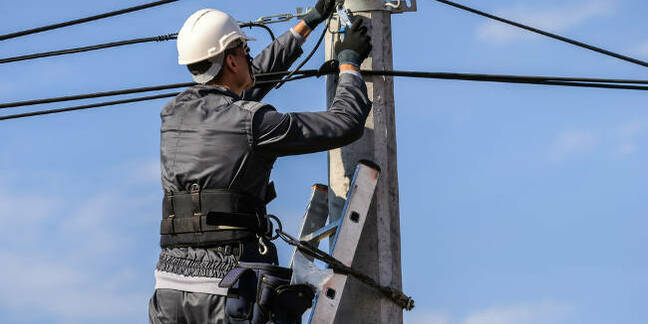 AT&T's legal battle to stop Google rolling out broadband internet in Louisville, Kentucky, has been halted in its tracks.
District Judge David Hale said on Wednesday the US telco giant must allow the installation of Google Fiber lines on the city's telephone poles.
AT&T had challenged Louisville's "one touch make ready" rule, which allows Google's technicians to handle and temporarily move cable from other providers when they install their own fiber broadband cables on public phone poles.
Through its Bellsouth subsidiary, AT&T had argued that that the rule unfairly threatens its own ability to operate in Louisville, as the Google Fiber contractors could, knowingly or not, damage their lines and cause outages when moving the cables.
AT&T had sought an order from the western district court of Kentucky to prevent Louisville officials from allowing Google Fiber techs the ability to handle lines owned by other carriers. The city argued that it was entirely within its rights to enact "one touch make ready" rules for its public utility poles and asked that the case be thrown out.
Judge Hale sided with the city, reasoning that Louisville has full power to manage public right-of-way, such as the telephone pulls that suspend power and data cables.
"Louisville Metro has an important interest in managing its public rights-of-way to maximize efficiency and enhance public safety. And Kentucky law preserves the right of cities to regulate public rights-of way," Judge Hale wrote in his decision [PDF].
"Because Ordinance No. 21 [one touch makes ready] regulates public rights-of way, it is within Louisville Metro's constitutional authority to enact the ordinance."
The ruling means that Google Fiber can go forward with its plans to install the lines for the Fiber service without fear of legal reprisal from AT&T. The rollout of Louisville service is said to still be in the works even with the slimmed down Fiber operation at Alphabet.
AT&T, meanwhile, is not ruling out an appeal, telling The Register: "We are currently reviewing the decision and our next steps." ®
Sponsored: How to simplify data protection on Amazon Web Services