Loss-making storage survivor Sphere 3D looking at 'strategic alternatives'
We think it probably doesn't involve listening to Sonic Youth
Sphere 3D is "reviewing strategic alternatives", a sign that it's open to a sale or being split up.
The company is the result of Canadian Sphere 3D merging into the loss-making and tape-heritage Overland Storage-Tandberg Data combo in 2014 with the hope that its Glassware and other virtualisation technologies would transform the company into a profitable enterprise. How did that turn out?
Let's check a chart of annual results of the Overland-Tandberg combo and then Sphere 3D to see: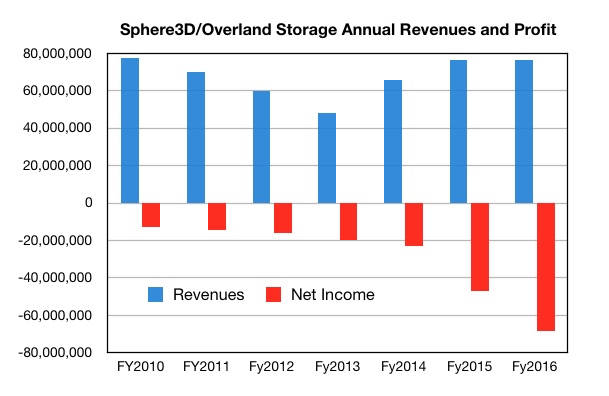 Sphere 3D annual revenues and profit/losses since fiscal 2010
Oh, well, yes, that's 24 quarters of impressively consistent loss-making, and there's also a history of reverse stock splits to escape stock exchange ejection and under-performance criticism as well. Not well, in other words.
The company announces that it has now "created a subcommittee of its board of directors to review strategic alternatives that may enhance shareholder value." It has also hired Ernst & Young Capital Advisors (EYCA) as its exclusive financial advisor to review those "alternatives".
Vic Mahadevan, the lead independent director of Sphere 3D, gave out a canned quote that managed to praise the company's executive team while revealing that its activities meant the company was in such a parlous state it was maybe up for sale or breakup:
After careful consideration, our Board and management have determined to undertake a review of strategic alternatives with the goal of maximizing shareholder value. While the management team has made excellent progress in the execution of our strategic roadmap to transform the company into a more focused, efficient, and innovative organization, we believe that more can be done and as such, we believe that a review of strategic options at this time is in the best interests of shareholders.
We notice that, while the management team is praised for its strategic roadmap execution, there is no mention of its failure to achieve profitability. Eric Kelly combines the CEO and board chairmanship roles which might raise some corporate governance hackles, and means there's no separation of the chairman and CEO roles – no effective CEO oversight in other words. Kelly has been Overland, Overland-Tandberg and then Sphere 3D CEO since 2009.
Mahadevan joined the board in December 2014, coming from being chief strategy officer at NetApp from 2010 until October 2012, and prior to that VP of marketing for the LSI Corporation, which NetApp acquired.
Sphere 3D carefully states:
EYCA will be assisting the Company in evaluating a broad range of strategic options currently being considered. Sphere 3D does not have a defined timeline for the exploration of strategic alternatives - at least not one it has made public - and does not make any assurance that these efforts will result in any announcement or consummation of strategic alternatives.
We're told there will be no further Sphere 3D comment on this matter unless and until it has entered into a specific transaction or otherwise determined that further disclosure is required or appropriate. ®
Sponsored: From CDO to CEO