nbn™ cracks the $1bn revenue barrier, cracks whip on tardy retailers
Customer service problems are everyone's problem, by design, says CEO Bill Morrow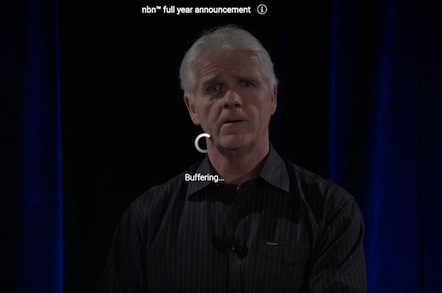 nbn™, the organisation building and operating Australia's National Broadband Network (NBN), has reported annual revenues of AU$1,001m for the year ending June 30, 2017, and says it's ahead of target for construction and uptake.
The company says that as of June 30th it had 5, 713,350 premises ready for service, of which 2,443,133 had activated services. When the company looks at the takeup rate over the 18 months that elapse between NBN connections becoming available and ye olde PSTN-based internet access being switched off, 75 per cent of premises make an NBN connection. That's one point ahead of its 74 per cent target.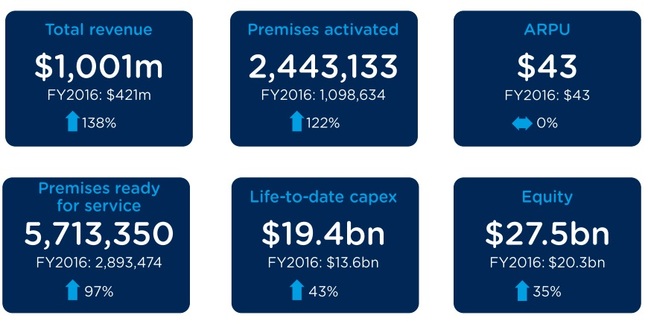 nbn™'s key numbers for FY 2017. Click here to embiggen
But CEO Bill Morrow acknowledged that not all customers are happy, a problem he mostly laid at the door of retailers who he said have varying processes for connecting customers and are only just starting to explain to customers that peak speeds won't be available 24 hours a day.
While Morrow did not name retailers he said are doing better than others, he said nbn™ has collected statistics that tell it which are problem children. He also revealed the slide below in order to explain why nbn™ can't be held accountable for all poor customer experiences, but also said the company is aware that its own efforts to support both retailers can improve.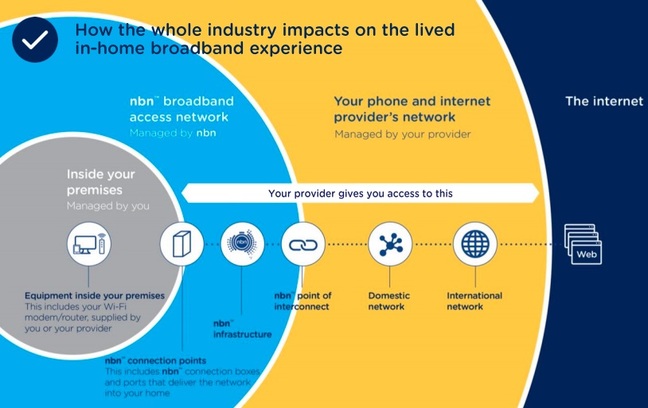 The buck stops … somewhere? Click here to embiggen
The CEO also attributed recent restiveness among users to problems bedding in new carriage technologies. Morrow said this happens each time nbn™ adopts a new technology and that with hybrid fibre-coax (HFC) and fibre-to-the-curb (FTTC) builds now accelerating he hopes to learn from the glitch period on other builds to smooth things out this time around.
On the financial front, the company is still losing money but says revenue is growing fast and eroding losses quickly.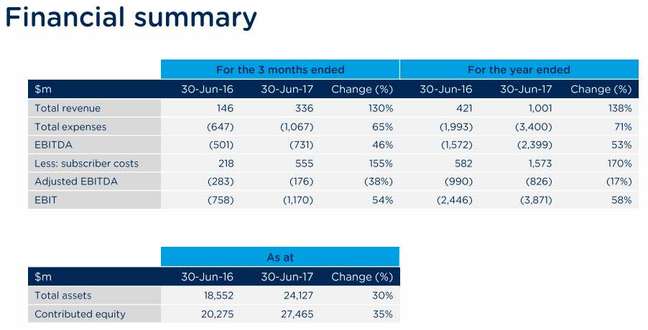 nbn™'s key financial figures for FY 2017. Click here to embiggen
The company wants Australians to concentrate on the EBIT number, which it says best represents its true status. The company was also pleased to report average revenue per user of $43, and forecast that would climb as demand for more downloads arrives and business services become available.
The presentation also revealed that fewer users of the NBN are signing up for the fastest connections on offer. For the year ending June 30th just 13 per cent buy 100Mbps-capable fixed line services, down one per cent compared to FY 2016. 25Mbps services now account for 53 per cent of users, up four points, with 12Mbps users down to 29 per cent of users, compared to last year's 32 pe r cent.
Overall, Morrow's remarks continue nbn™'s recent push-back on those who say its government-mandated mixed media network build is the source of end-users' performance problems, in favour of an argument that says nbn™ has complex interrelationships with retailers and cannot bear sole responsibility for end-user experience. It also continues nbn™'s consistently rosy view of its progress.
But Morrow also mentioned that the company has one third of its regional build left, and two thirds of its metropolitan build to go. Those efforts will include re-wiring users who currently enjoy 100Mbps HFC services, but will likely get worse service from nbn™ and are already signalling they'll scream long and loud if their services degrade. The company also has many premises to connect that it has put in the too-hard basket for now and also faces implementation of FTTC on a scale seldom-if-ever attempted anywhere, ever.
We'll know how the company plans to tackle those challenges in coming days when it launches a new corporate plan. Grab some popcorn. There's plenty more nbn™ fun to come! ®
Sponsored: Minds Mastering Machines - Call for papers now open