Tech billionaire Khosla loses battle over public beach again – and still grants no access
Law slowly shutting down Sun cofounder's legal campaign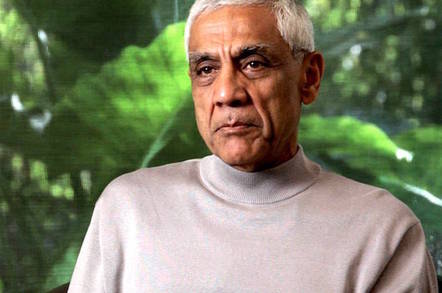 Sun cofounder and billionaire venture capitalist Vinod Khosla has lost another legal battle over his efforts to shut off public access to a California beach – but still won't be required to let people onto it until a second lawsuit concludes.
On Thursday, the California Court of Appeal agreed with the San Mateo Superior Court, which ruled that Khosla's decision to lock a gate providing public access to Martins Beach amounted to a "development" that he did not receive a permit for.
Although the surfing beach is public property, getting to it involves walking over part of a 90-acre plot of land that Khosla bought for $32.5m back in 2008. The land's former owners had granted a public right of access, but the billionaire was having none of that.
The appeals court also agreed that Khosla should foot the $470,000 legal bill that the Surfrider Foundation racked up in chasing him through the law courts for five years to reopen access.
Even though he keeps losing again and again, Khosla is still not legally obliged to open up the public path because that issue is part of a second lawsuit that is wending its way through the courts.
In this latest battle, Khosla's lawyers made a range of arguments, all of which were dismissed by the appeal court. Most significantly, they argued that simply closing a gate did not represent a "development" and so he was not required to get a permit.
But, the appeal court noted, while the word "development" does tend to mean new construction, the wording of the law is quite explicit in that it contains the phrase "change in the intensity of use of water, or of access thereto."
And, it points out, previous legal decisions have agreed that "the Coastal Act is to be liberally construed to accomplish its purposes and objectives." In other words, to preserve and protect the coastline from would-be monopolists.
Absurd
Khosla's legal team argued that such a decision would be absurd, and posited various ludicrous theoretical situations such as: must a private owner seek a permit anytime he wishes to throw a party with guests, and then again before he asks his guests to leave? Must a private owner who has a permit to install a water pump seek a permit every time he wishes to turn the pump on or off? Is a permit necessary to have a garage sale at one's home situated on the coast?
But the court brushes this off, noting that the Coastal Act specifically identifies that temporary situations are exempt from permit requirements.
Critically for those who wish to actually access the beach, however, the appeal court refused a request to find Khosla in breach of a public right of way. "Surfrider points to nothing showing the public has a right to access Martins Beach that has been recorded or judicially determined," it concluded. "Accordingly, regardless of the public access rights that may be legally established in the future, this court must presume the prior access was permissive."
Or, in other words, you'll have to wait until the other lawsuit concludes.
"We are pleased that the court continues to stand with the public and to protect the Coastal Acts' basic premise: the coast belongs to all Californians," said John Claussen, chair of the Surfrider Foundation San Mateo County Chapter, in a statement. We have heard nothing from Khosla nor his attorneys so far.
At issue in all this is a critical part of California law – and one that many in the Golden State take extremely seriously – namely the public's right to walk its coastline and surf its waves. In recent years, that long-held right has been under threat by the super-rich who have bought beachside houses and then used all means possible to prevent anyone else from accessing the beach in front of them.
Sponsored: Practical tips for Office 365 tenant-to-tenant migration