StarCraft. Intel's 100 robo-rides. Nvidia's license to print money. Your Friday AI roundup
Like a boozy fry-up. Or maybe not. Maybe we have too much booze on the brain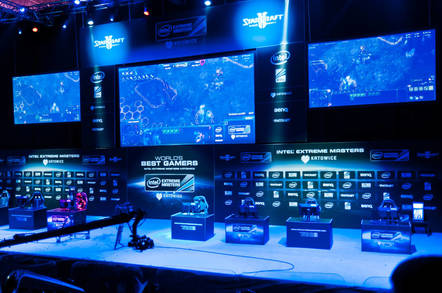 Some people start their mornings with coffee. Some opt for a classy mimosa. Some just drink straight out the vodka bottle. Well, just for you, a little something something to kickstart your Friday: a quick hype-free roundup of stuff in the world of AI this week.
Intel enters the self-driving car race
Intel says it will build a hundred self-driving cars and test them on the roads in the US, Israel, and Europe – presumably before it gets bored with the idea, like it did with smartwatches, wearables, gadgets, Curie, Atoms...
This is all part of Chipzilla's $15.3bn acquisition of Mobileye, a computer vision startup based in Santa Clara, California.
Mobileye uses a combination of machine-learning code and plain old data-analysis algorithms to help autonomous vehicles navigate maps. It also specializes in a collision avoidance system that uses a sensor to gauge the distance between the vehicle and other motors, pedestrians and cyclists, and alerts the driver to potential dangers with visual and audio alerts.
Intel's test fleet will be a mix of vehicles from various manufacturers, will be kitted out with computer hardware and sensors, and taken out on different types of terrain, with data collected from the journeys to train and improve the self-driving software. Intel's goal is to build a robo-ride platform from "car-to-cloud" – basically, a hardware and software system that makes decisions locally and can reach out to the internet for information.
DeepMind, Facebook in StarCraft race
Facebook and DeepMind have both shown off their separate efforts to train software to play and conquer the hugely popular strategy game StarCraft.
Late last year, both organizations announced they were working on crafting tools to produce AI players for the smash-hit video game series. Fast forward several months, and Facebook has published training data to feed into its open-source TorchCraft player code, while DeepMind and Blizzard have emitted a StarCraft II learning environment.
Facebook's dataset contains 65,646 game replays, 1.5 billion screen frames, and 496 million player actions. This will help "data-hungry deep reinforcement learning algorithms" figure out the best strategies for different scenarios across various maps in the game, we're told.
DeepMind, meanwhile, has released SC2LE, a reinforcement learning environment to train StarCraft II agents. The team has also put together a dataset containing 65,000 game replays. They plan to increase that number to half a million in the coming weeks.
Essentially, as a programmer, you can use TorchCraft or SC2LE to develop and interface your own AI player with StarCraft I and II, along with the aforementioned training data to teach it. Good luck.
Nvidia races away with money
Nvidia reported strong financial results for its second quarter of the fiscal year aka the three months to July 30. However, at time of writing, its stock stumbled down 6.71 per cent to $153.68 apiece in after-hours trading simply because investors expected even better figures. Here's a summary:
Total revenues for the quarter were $2.23bn, up 56 per cent from the previous year's Q2, and $270m better than analysts' estimates. Sales from GPUs totaled $1.9bn, up 59 per cent, and the Tegra processor business made up the rest, $333m, up 101 per cent.
Net income was $583m, a boost of 123 per cent from a year ago. The non-GAAP earnings per share was $1.01, better than analysts expected by 31 cents, and up 91 per cent year on year.
The bulk of its haul come from the gaming industry:
Chips for gaming brought in sales of $1.186bn, up 52 per cent year on year.
Its GPUs for data centers raked in $416m in revenues, up 175 per cent compared to last year.
OEM and IP licensing sales hit $251m, up 54 per cent.
Professional visualisation had revenues of $235m, up 10 per cent. Automotive sales finished at $251m, up 19 per cent.
Nvidia CEO Jensen Huang continued to push his corp's AI narrative, pitching his chips as perfect for running machine-learning tasks. "This is the era of AI, and Nvidia has dedicated itself to be its brain," Huang declared. He also reckoned Nv's self-driving car platform, and the demand for GPUs to mine cryptocurrencies, was going to expand Nvidia's horizons. You can grab a transcript of his conference call with analysts here. If you were expecting Volta GPUs in your PCs this year, you're out of luck: Nv is pushing Pascal for personal computers right now, and Volta in desktops will follow next year.
Meanwhile, outfits like Google are designing their own machine-learning acceleration chips, bypassing Nvidia's GPUs, however that didn't seem to worry Huang. ®
Sponsored: Practical tips for Office 365 tenant-to-tenant migration