US trade watchdog puts down the phone to Qualcomm, reaches for probe, sticks it in Apple
Investigation may lead to iPhone, iPad ban in US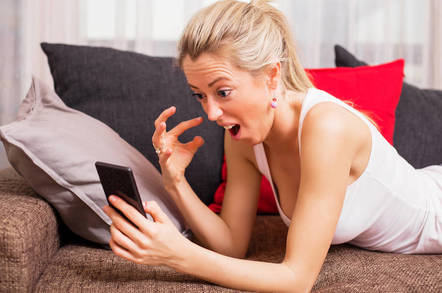 America's international trade watchdog is officially probing Apple over claims its iPhones and iPads infringe technology patents.
The ITC announced Tuesday it had begun a Section 337 investigation of the Cupertino giant to assess whether iOS smartphones and fondleslabs should be banned from being imported into America because they rip off designs belonging to California-based Qualcomm.
"The US International Trade Commission has voted to institute an investigation of certain mobile electronic devices and radio frequency and processing components thereof," the agency said.
"The products at issue in the investigation are mobile electronic devices – such as the iPhone 7, and specific components for such devices – such as baseband processor modems."
This comes after Qualcomm filed a complaint with the watchdog: the Snapdragon designer wants an import ban placed on iPhones and iPads that use Intel-made wireless broadband modems, the operation of which allegedly infringes six patents held by Qualcomm.
Apple usually uses Qualcomm modem chips in its handhelds, but has started using Intel components in some of its latest products. Qualcomm reckons Apple's use of Intel's technology tramples on its patents, hence the import ban request.
"Qualcomm is pleased with the ITC's decision to investigate Apple's unfair trade practices and the unauthorized importation of products using Qualcomm's patents," said Qualcomm EVP and general counsel Don Rosenberg.
"We look forward to the ITC's expeditious investigation of Apple's ongoing infringement of our intellectual property and the accelerated relief that the Commission can provide."
Apple did not respond to a request for comment on the matter.
Apple and Qualcomm have been locked in an ongoing dispute over the royalty payments Apple coughs up for patents it uses in the iPhone and other mobile devices. Claiming that Qualcomm overcharges it and other companies to license its patents, Apple has sued Qualcomm for a billion dollars and around six months ago ordered its manufacturers not to pay licensing fees to the chip designer.
Apple has also called in the FTC to investigate the licensing terms, triggering a tit-for-tat suit from Qualcomm to the ITC.
If this whole thing sounds petty and childish, it's because it most certainly is. Both sides should have been able to settle the matter months – if not years – ago, and should have agreed on a new set of patent deals. ®
Sponsored: Becoming a Pragmatic Security Leader